Printer-friendly version
Email this CRN article
Kim Hogan
Business Development Manager - National Accounts, Intuit, Inc.
Location:
Irvine, CA
URL:
http://www.intuit.com
Number of years in current position:
2
Number of years involved with indirect sales:
8
How have you personally helped advance your company's channel business over the past year?
Just over a year ago, Intuit had virtually no internal resources dedicated solely to the large accounting firm space. since late 2013, we've grown the Business Development team to a global level with BDMs managing the accountants channel in all of regions Intuit serves, including the top firms in the US. It's a great feeling to look back on the past year and see what we started & know that I'll always get to say I was one of the first Intuit BDMs.
What are your goals for your company's channel business over the next year?
Having just expanded our team to provide dedicated account management to the top 1,300 firms nationally, my role has morphed into focusing exclusively on serving the largest firms in the Western US. We've made a great dent thus far, but we have so far to go in terms of winning every cloud accounting decision, and providing our customers with a delightful experience with every interaction. There is a lot of ground to cover, but I'm thrilled to take on this challenge and build my QuickBooks Online West Coast empire.
What programs/initiatives does your company offer to support women in the workplace?
Intuit places an extremely high importance on diversity in general, with gender equality being at the top of the list. Recently, CEO Brad Smith shared on a company-wide Q&A session that while we rank high on numerous gender-equality studies, he's committed to doing even more. I've been active in the Intuit Women's Network (IWN) for over a year & have participated in several IWN initiatives. We've taken this global the past few years with an International Women's Day celebration where we celebrate and honor women at Intuit who make a difference at our organization and in our communities.
Who is your female role model?
I've been privileged this past year to get to know and spend time with Intuit's Chief Marketing and Sales Officer, Caroline Donahue. She is absolutely the perfect combination of professional/ strong/ inspiring/ confident/ and, most important, motivating. As a female sitting at the top of an organization like Intuit, it's refreshing to see someone assert her authority when needed, but also foster relationships with and provide mentorship to women underneath her. Caroline places a high importance on today's social business landscape, and leads by example in true Intuit fashion. I'm so proud to be part of her team.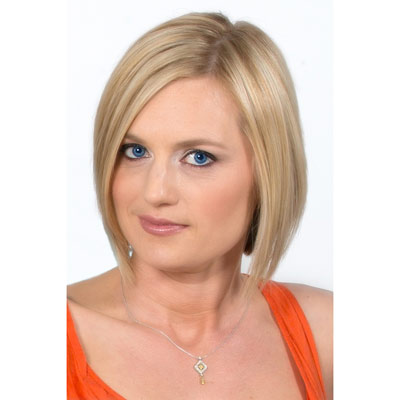 Fun Facts:
Uses Twitter
Uses Instagram
Uses Facebook
Uses LinkedIn
Has a mentor
Is a mentor
Is a tech geek
Uses more than 3 mobile devices
Is athletic

What advice would you give to young women aspiring to succeed in the workplace?
I feel such a responsibility to give back after being mentored by so many amazing women in my career. I've currently got a great circle of young women in my immediate work circle who I just adore. Most of my words of wisdom to them relate to the challenges and opportunities facing young female professionals in what still remains a male-dominated technology channel. I tell them they'll likely have to fight harder for what they want, but it will be that much sweeter when they get it (and they will).
What is your favorite novel and why is it meaningful to you?
Perhaps it's the place I'm at in life, but right now I'm relating to The Alchemist. Much like Santiago in the story, I sometimes feel like I've chased my tail all over the world, searching for something that's right in front of me the whole time. But I know that the life experiences I've gained, the mistakes I've made, the lessons I've learned, and especially the people I've met have all left marks on me and help shape me into who I am today. What's the cheesy line? Life is not about the destination, it's about the journey...
What tips do you have on how to find work/life balance?
Marry within the channel. At least that is my strategy. My Fiance (who works for Avalara) and I have found work/ life balance is often impossible being that we are both workaholic road warriors. Instead, we use the term "work/ life integration" and embrace that when we're not working, we might still be thinking about work. We're able to encourage, support, and even push each other further in our careers, which has definitely been a huge factor in my success. I never have to feel like I'm taking away from my personal life when I have to focus on work.
Unedited Content Provided By Participants
Printer-friendly version
Email this CRN article