Printer-friendly version
Email this CRN article
Jasmine Lombardi
Vice President of Partner Success, Intronis, Inc.
Location:
Chelmsford, MA
URL:
http://www.intronis.com
Number of years in current position:
2
Number of years involved with indirect sales:
2
How have you personally helped advance your company's channel business over the past year?
Jasmine set out to learn how to help our MSPs be more successful. She created a unique venue to do this by visiting partners 'in the wild', called 'Safari Trips'. What she learned through the Safaris has led to a number of innovative and strategic initiatives designed to help MSPs grow revenue, including: • Launched Intronis Essentials: A suite of online tools including Intronis University, Partner Tool Kit, Onboarding and Knowledge Base, this innovative Essentials program provides MSPs with everything from certification to pre-packaged sales and marketing programs . • Introduced an Innovative Offering Called Data Protection as a Service: MSPs can outsource the management of backup service to Intronis so that they can scale revenue faster and significantly reduce their labor cost to increase profitability. • Reorganized a Support Team into a Partner Success Team: This team works with MSPs to help onboarding after the sale to get them ramped so they can drive revenue and profit faster. The team also works with MSPs to advise on how to better sell and market backup and recovery services. Feedback from our Partners has been outstanding.
What are your goals for your company's channel business over the next year?
Top three strategic goals are: 1. Help our partners grow their revenue and profit. 2. Create a network of advocates from existing channel partners so they help generate new business. 3. Integrate the voice of the channel in our product initiatives. To deliver on those initiatives Jasmine has: • Launched a new Partner Management team to help our partners sell. • Developed a new certification module in Intronis University focused on Sales and Marketing. • Launched an exciting program to encourage and reward partners for being vocal advocates. • Developed a rapid response escalation process for product-related requests.
What programs/initiatives does your company offer to support women in the workplace?
Intronis is unique in sponsoring programs to support women. First, three senior executives in the company are females. They act as role models and mentors for other females. All females are encouraged to expand their horizons with external education programs sponsored by the AMA and others. The company is innovative in having quarterly recognition programs around cultural values and leadership, many of which have been won by women in the last 12 months. The company has a generous leave policy and flexible work schedule. The company has sponsored CEO lunches where females can provide direct input at the executive level.
Who is your female role model?
Jasmine's role model is her mother in Singapore. The mother of nine children, she never went to school a day in her life, and she cannot read or write. Yet, being uneducated didn't prevent her from teaching Jasmine valuable lessons that have stuck with her for life including: • The value of independence. • Always 'do the right thing' when faced with difficult situations. • Create and maintain work/family balance. • Recognize that your 'wealth is your children.' • Use your education to get ahead in life. • Never ever give up. You can accomplish the impossible.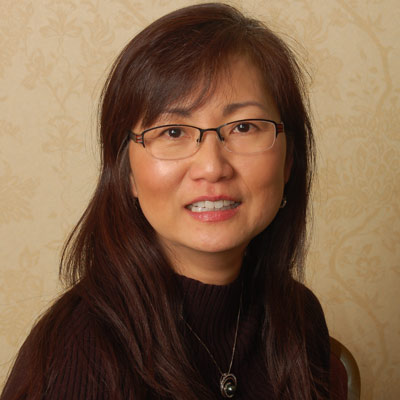 Fun Facts:
Lived outside the U.S. for at least a year
Fluent in a language other than English
Uses Twitter
Uses Facebook
Uses LinkedIn
Has an advanced degree
Has worked for a solution provider
Has a mentor
Is a mentor
Is a tech geek
Loves to sing
Is athletic

What advice would you give to young women aspiring to succeed in the workplace?
There are eight life lessons that Jasmine shares with other women, including: 1. Advocate for yourself. 2. Capitalize on every experience and learning opportunity. 3. Network whenever possible. 4. Think outside-the-box. 5. Be confident and persistent. 6. Act with integrity. 7. Do what is necessary and right. 8. Never give up. She encourages Asian women like herself to use these lessons to break the cultural glass ceiling deeply embedded in the Asian culture. Living these life lessons earned her Silver Stevie Award for 'Female Executive of the Year' at the 11th annual Stevie' Awards for Women in Business. http://www.intronis.com/news/intronis-news/intronis-jasmine-lombardi-wins-silver-at-11th-annual-stevie-awards-for-women-in-business/ http://blog.openviewpartners.com/jasmine-lombardi-stevie-award-female-executive-of-the-year/
What is your favorite novel and why is it meaningful to you?
Jasmine's favorite novel is the Joy Luck Club. She relates to the characters of the book in terms of mother/daughter relationships...her relationship with her mother and her relationship with her daughter.as well as three generations with different upbringing and environments. She was raised in a very traditional Chinese family in small village in Singapore . She moved to United States in 1989 to work.married an American (Irish/Italian) in 1993.crossing cultural differences. East meets West. This book makes her realized how ones' upbringing has significant impact on relationships and the importance of family.
What tips do you have on how to find work/life balance?
Jasmine has found the secret is to build great trust and emotional connection with her children. She likes to keep her kids involved in everything she does, including: • Taking them on business trips • Having them work as interns at Intronis • Getting very involved in their school lives • Attending all their activities such as dance competitions, scouting events and orchestra concerts She also tries to capture quality mother/child time as possible during family getaways at her lake house -- kayaking, camp fires, hiking and watching movies together. And.she also cuts their hair which is great bonding time!
Unedited Content Provided By Participants
Printer-friendly version
Email this CRN article