Printer-friendly version
Email this CRN article
Ellie Nazemoff
President & CEO, Acolyst
Location:
McLean, VA
URL:
http://www.acolyst.com
Number of years in current position:
26
Number of years involved with indirect sales:
26
How have you personally helped advance your company's channel business over the past year?
I have been busy fine-tuning an innovative program designed to help technology vendors and manufacturers expand their business into the federal government market, utilizing a a realistic approach and conservative investment expectation. The Acolyst Federal Partner Program draws upon my over 25 years of experience working within the complexities of the federal government, and shares best practices for compliance and certification, GSA contracting, content development specifically geared towards government culture, and much more. In addition, the program also offers assistance in joint marketing, RFPs, support, distribution, opportunity identification, contract management, documentation, and administrative needs. I am especially proud of creating an initiative that addresses the needs of the market through true partnership.
What are your goals for your company's channel business over the next year?
One of my goals (through our Federal Partner Program) is to help technology organizations to expand into the federal sector. There is a specific culture and rhythm to federal procurement that makes it quite different from commercial business practices, of which my team is familiar. But, those who partner with us through our Federal Partner Program will require dedicated business development and sales personnel as well. I plan to attract the right kind of personnel to complement the expert team we have.
What programs/initiatives does your company offer to support women in the workplace?
Although we have recently expanded our corporate office location, we also use cloud technology and mobility to support women in the workplace and offer our employees the flexibility to make everything work remotely. Through flexible hours and virtual offices, our employees tell us that they were able to re-enter the workforce sooner than they thought possible.
Who is your female role model?
My mother is my role model and most important person in my life. She is my greatest motivator and a constant reminder of what true love really means. Her dedication to give my sister and me a better life meant that she left her family in Iran to come to America. Because of her, I am a better person who believes in the importance of education, hard work, and strong character. She is a role model to everyone who knows her, thanks to her honesty, generosity, good advice, strength, support, and spirituality.
One of our "Power 50 Solution Providers"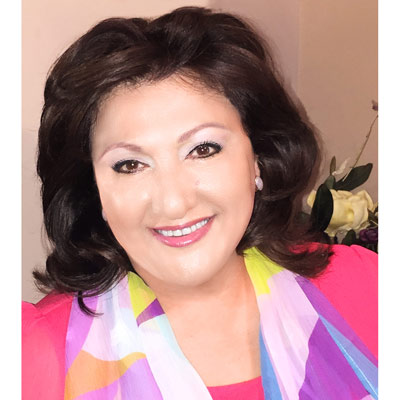 Fun Facts:
Lives within the limits of a major city
Lived outside the U.S. for at least a year
Fluent in a language other than English
Uses Facebook
Uses LinkedIn
Has an advanced degree
Has an advanced degreeHas an MBA
Has worked for a solution provider
Has a mentor
Is a mentor

What advice would you give to young women aspiring to succeed in the workplace?
Exercise common sense and good judgment. A sure way to grow your common sense? Don't automatically assume your mind already knows the answer that your mouth hasn't even asked yet. What would you want from an employee if you were the employer? Give your employer 100% of your attention. Adapt to change. Openly embrace change as an opportunity to learn, grow, improve your work skills, and create greater value for you and your employer.
What is your favorite novel and why is it meaningful to you?
'The Age of Innocence' by Edith Wharton. It was the first time a book written by a woman won the Pulitzer Prize. It tells the story of 1870s society in NYC, hinting at the turmoil beneath the surface. When I read it, I was surprised to find out that arranged, loveless marriages can also occur in the U.S. The book does not end happily ever after, with the protagonist regretting that he sacrificed true love in order to keep up with appearances. As you can tell, I'm someone who believes that people must follow their passions or suffer the consequences.
What tips do you have on how to find work/life balance?
Love your life and your job. Be positive, passionate, and enthusiastic. Stay healthy, practice good time management, set goals, plan and prioritize.
Unedited Content Provided By Participants
Printer-friendly version
Email this CRN article