Printer-friendly version
Email this CRN article
Anna Dorcey
Vice President, Americas Field and Partner Marketing, Global Enterprise Marketing, EMC
Location:
Hopkinton, MA
URL:
http://www.emc.com
Number of years in current position:
1
Number of years involved with indirect sales:
24
Twitter Handle:
@AnnaDorcey
How have you personally helped advance your company's channel business over the past year?
At EMC, we believe in the power of data to maximize opportunities and innovation, and one of our biggest achievements in 2015 was continuing to drive closed loop return on investment reporting for our partner marketing development funds. Equipped with tangible metrics around the business impacts of dollar investments, EMC partner marketing managers are able to more strategically determine tactics, and EMC sales teams and partners can make data-driven decisions around how, what and why to fund activities to further the business. Understanding the ROI of EMC's partner marketing development funds not only helps determine the right investment decisions on different tactics and facilitates more efficient spending; it allows EMC to be more flexible and pilot in different marketing areas to see if better ROI is feasible.
What are your goals for your company's channel business over the next year?
Last year, EMC rolled out our refreshed Business Partner Program. Our goal then, today and in the future will always be to ensure the program is simple, predictable and profitable for our partners. Key to that will be the continued use of quality metrics and standardized reporting to deliver insights that enable strategic marketing investments. Over the next year, we also plan to increase the partner ecosystem relationships between our Solution Providers and Cloud Service Provider partners to support our customers' implementation needs. (Follow me on Twitter @AnnaDorcey to keep tabs on this and other exciting EMC developments!)
What programs/initiatives does your company offer to support women in the workplace?
Part of what makes EMC a special place is its recognition of its female employees. (EMC was recently honored as one of the top 25 multinational companies by Best Places to Work.) The Women's Leadership Forum is a dynamic community of EMC women focused on advocating career advancement and developmental opportunities. EMC also hosts Women of World as part of the annual blockbuster conference, EMC World. This event brings women together in conversation to share perspectives on leadership and innovation, and how we can drive greater profitably for our firms while ensuring we continue to drive our personal success paths.
Who is your female role model?
My answer to this question will always be my mother, Gerda Dorcey. Her career advice was simple, and is always in my mind: "Do what makes you happy." Through her example, I know what it means to be strong, yet kind; to value and make the most of your relationships, and to persevere. Even when things are at their worst, if you keep focused, you will achieve your goals.
One of our "Power 100 Vendors"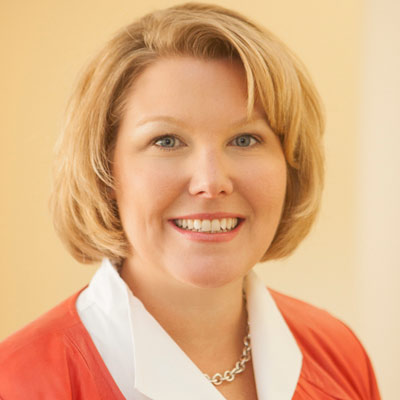 Fun Facts:
Has lived in more than 5 states
Can't put down her phone
Uses Twitter
Uses Facebook
Uses LinkedIn
Has worked for a solution provider organization
Has a mentor
Is a mentor
Loves Netflix
Is extremely organized
Collects art
Has performed in a musical
Is a night owl

What advice would you give to young women aspiring to succeed in the workplace?
I echo my mother's advice to do what makes you happy. But I would also add this: doing what makes you happy is not always easy. So stay true to yourself. Don't be afraid to fail or to try new things. And don't let a title - or lack thereof - intimidate you or hold you back. Be confident in your abilities and go after what you want.
What is your favorite song and why is it meaningful to you?
"Landslide" by Stevie Nicks. I love Fleetwood Mac and Stevie Nicks. I think this song speaks to me, as it is about change. Things always change, time goes by, etc. and this song seems to reflect how I've felt through major periods of change both professionally and personally, probably a song that resonates. Not to mention I love listening to Stevie's voice - , powerful and amazing.
What tips do you have on how to find work/life balance?
1. Create a good support system: a partner, family and friends to surround you and remind you that balance is important. 2. Trust: Trust in the team members around you to help deliver and accomplish what needs to be done. This confidence in your team will allow everyone more balance and you'll have more fun achieving the goals. 3. Take a vacation: Take a vacation and don't check email or your phone. Unless something is on fire, most things can wait. Mental breaks are very important in corporate America!
Unedited Content Provided By Participants
Printer-friendly version
Email this CRN article