Printer-friendly version
Email this CRN article
Christy Anderson
Vice President, Strategic Sales, Avnet Technology Solutions
Location:
San Antonio, TX
URL:
http://www.ats.avnet.com
Number of years in current position:
1
Number of years involved with indirect sales:
25
Twitter Handle:
@christy1905531
How have you personally helped advance your company's channel business over the past year?
My team and I are responsible for inside sales activities supporting our suppliers' products, services and solutions, as well as vendor Resold services. We drive priorities to enhance the effectiveness of our sales team that interfaces with our partners. Our priorities include a more partner-focused structure, implementing strategies that address constructive partner feedback around responsiveness and quote turn times, driving the utilization of toolsets that can add value to the partner/supplier, etc. I am playing a significant role in helping Avnet digitally transform our business to create a competitive advantage for our partners. For example, my team and I worked closely with our IT colleagues to develop an innovative solution called Avnet uRenew. This solution simplifies the contract renewal process for our partners, giving them instant visibility into every service contract they've sold to their customers related to hardware or software technology from more than 20 of Avnet's suppliers. Avnet uRenew has helped our partners not only increase their productivity, but also capture new revenue opportunities. Avnet's business related to these service contracts has increased 20 percent year-over-year. As a part of this, hundreds of service contract renewal proposals have converted into millions of dollars in business for our partners.
What are your goals for your company's channel business over the next year?
Growth - enable our partners, suppliers and Avnet to meet and exceed financial objectives through effective, valued, inside sales execution. Enable our inside sales teams to be ready to engage on 3rd platform opportunities as they partner with their customers. Enable our teams to be even more effective and proactive with our partners and suppliers by leveraging technology to make their jobs easier. Continuing to drive priorities that directly respond to constructive partner/customer feedback.
What programs/initiatives does your company offer to support women in the workplace?
Avnet features a group called the Avnet Women's Forum that encourages women within our organization to network with one another as well as participate in speaker-hosted forums around a number of different topics. Avnet also recognizes one women leader every year for their excellence in leadership. Those nominations are made by anyone in the business.
Who is your female role model?
I have several, but when Nancy Reagan passed away, it re-kindled my interest in her as a person. Although this is not someone I ever knew personally, she is absolutely someone that was and is a positive role model for all women! Nancy Reagan was respected, educated and a good communicator. She knew the value and priority of family. She had things she was passionate about, and she really drove those ideas and priorities.
One of our "Power 100 Vendors"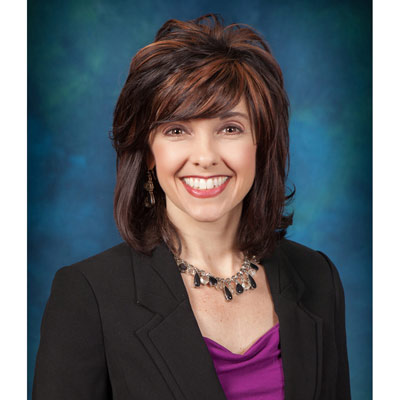 Fun Facts:
Is a social media addict
Uses Twitter
Uses Facebook
Uses LinkedIn
Has a mentor
Is a mentor
Loves Netflix
Has a pet
Is an early riser

What advice would you give to young women aspiring to succeed in the workplace?
Find something you are passionate about and work hard at it. Try different things when you are young/ you can take different chances and risks that might not be as convenient for you after you are married and have a family. Work hard to avoid self-doubt - the women who accomplish this don't put limitations on themselves, and they go far.
What is your favorite song and why is it meaningful to you?
I have a lot of favorite songs, so it's hard to choose just one. However, I love the genre of country music because in many of the songs they tell a story of something that can be relatable to things in my own life.
What tips do you have on how to find work/life balance?
Don't pass on "me-time."
Unedited Content Provided By Participants
Printer-friendly version
Email this CRN article