Printer-friendly version
Email this CRN article
Nancy Gorski
President, Strategic Mobility Group
Location:
Schaumburg, IL
URL:
http://www.strategicmobility.com
Number of years in current position:
5
Number of years involved with indirect sales:
14
Twitter Handle:
@NancySMG3
How have you personally helped advance your company's channel business over the past year?
As an owner of SMG3, I have worked very hard to build an organization based on virtues, ethics, and service. Every one of our employees has heard me say that the way we will excel in our industry and within the channel is by providing exceptional customer service. We don't limit great service to our customers. The manufacturers that we resell for, the distributors that we buy from, the companies who buy from us, and everyone who works for us must feel as though they are receiving exceptional service. Since we started five years ago, we have grown drastically each year by double digits and have won numerous awards, including awards by manufacturers where we were the sole recipient and recognized for providing customers with excellent service. Each and every day I keep a watchful eye on this part of our business and look for ways we can continue to provide better service.
What are your goals for your company's channel business over the next year?
We provide mobile technology and services to businesses throughout North America. Part of this involves keeping our customers up-to-speed with the most up-to-date technology. Our goals over the next year are 1) to help companies work more efficiently, 2) improve their operation, and 3) ultimately help our customers better service their customers. We'll do this by 1) expanding our products and services into more companies, 2) by penetrating new industries, 3) by expanding our portfolio of products and services, and 4) by never dropping the ball in customer service.
What programs/initiatives does your company offer to support women in the workplace?
At SMG3, women make up 50% of our management team. As you can imagine it's incredibly important to us support all of our female employees. We offer all employees flexible work hours, which enables parents to be there to see children off in the morning and be home to receive them at the end of the day. Women are paid an equal wage to men and are given opportunities to further their education through training programs. We're proud to offer women ample opportunities for advancement and a generous health plan that is especially supportive to pregnant women and new mothers.
Who is your female role model?
My mother, Jacqueline Gorski, had the grace of Jackie Kennedy and intelligence of Eleanor Roosevelt. She encouraged me to be my own person, a leader, and to always be compassionate. She'd applaud my successes, then take me to soup kitchens to give back. She showed that just because I existed didn't mean I was entitled; both she and my father instilled a strong work ethic in me early on. She taught me the importance of family, but reminded me that family didn't have to be blood. She taught me that a smile, hug, or touch could mean more than words.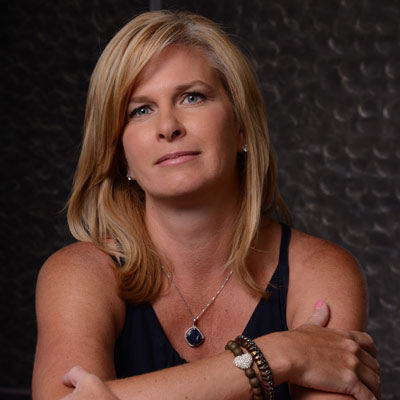 Fun Facts:
Has lived in more than 5 states
Is a social media addict
Can't put down her phone
Uses Twitter
Uses Instagram
Uses Facebook
Uses LinkedIn
Has worked for a solution provider organization
Has a mentor
Is a mentor
Loves Netflix
Is extremely organized
Has a pet
Has performed in a musical
Is an early riser
Is a night owl

What advice would you give to young women aspiring to succeed in the workplace?
Think big. Look at the road ahead and visualize where you want to be. It's important to set specific and measurable goals and write them down so that you know you mean it. Stay focused and don't let yourself be brought down by critics or negativity. Be confident in yourself and your abilities and others will be confident in you too. Don't back down from your fears. Be strong and don't waiver on what you know is right. Fear is just a self-made obstacle you were meant to overcome."
What is your favorite song and why is it meaningful to you?
My favorite song is "Mama's Broken Heart by Miranda Lambert". I hold this song close to my heart because it is me and my daughter's favorite song to sing together.Ê
What tips do you have on how to find work/life balance?
This is definitely a very difficult accomplishment for anyone to achieve, especially once you have kids. It can be so daunting to try and juggle your family and your career with your friends and social life. I think the best tip is to just do the best you can, and to give whatever you are doing at any given time your full attention. Give time at work your undivided attention and give time at home that same undivided attention. That's the closest you can get to obtaining that balance.
Unedited Content Provided By Participants
Printer-friendly version
Email this CRN article