Printer-friendly version
Email this CRN article
Rosalyn Arntzen
CEO, Amaxra
Location:
Redmond, WA
URL:
http://www.amaxra.com
Number of years in current position:
9
Number of years involved with indirect sales:
9
Twitter Handle:
@amaxra
How have you personally helped advance your company's channel business over the past year?
We have a strong partner to partner engagement focus, where we have partners as client, we jointly go to market and we do joint technology projects. We have a number of mutually beneficial long term partnerships from CRM, to SharePoint to Office 365. In our relationship with Microsoft, we have provided support for other Microsoft partners in training, sharing best practices and leanings along with joint technology partnerships.
What are your goals for your company's channel business over the next year?
To continue to focus on building Partner to Partner engagements, growing through offering partner specific support service, joint go to market opportunities and supporting other partnership programs. We have recently inked deals with Powell 365, K2 and continued long standing partnerships with Nintex, Microsoft (Gold SMB Cloud Partner), Lynda.com, Click Dimensions and other.
What programs/initiatives does your company offer to support women in the workplace?
Amaxra in 2015 was named by Fortune Magazine as #11 in the country for Best Places for Women to work. In 2016, recognized by Fortune 100, Best Places to work for flexibility. Amaxra is an open, transparent and diverse work environment for our employees to work remotely, part-time and flex time. We offer training and development programs including lynda.com, a coaching/mentoring program and individual skills development classes and conferences. We are a proud WBENC woman owned business since 2007, board member of Women and Wireless and key supporter of Strides Against Breast Cancer.
Who is your female role model?
J.K Rowling. She is a strong woman leader, advocate and supporter. Science Fantasy was traditionally a male dominated area, but with her contributions with the Harry Potter Series helped break through and become one of the most popular writers of all time. Moreover, she has lived a rags to riches story from living on states benefits to a multi millionaire in just 5 years. She has been named most influential woman in Britain and is a strong supporter of her community. This has not come without tenacity, hard work and passion, to break through barriers - truly inspirational.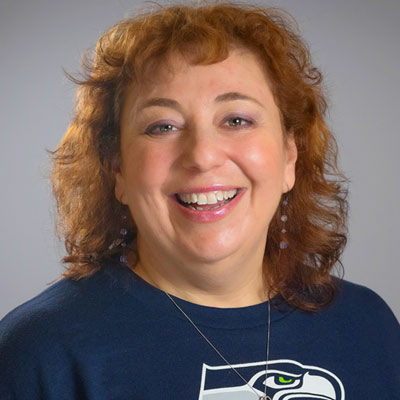 Fun Facts:
Is a social media addict
Can't put down her phone
Uses Twitter
Uses Facebook
Uses LinkedIn
Has an advanced degree
Has a mentor
Is a mentor
Loves Netflix
Has a pet
Collects art
Is a night owl

What advice would you give to young women aspiring to succeed in the workplace?
That there are many different paths to success and each one provides for learning, empowerment and growth. Failure is just a step on the learning path and everyone along the way has something to teach you - whether you want to learn it or not. Build a strong network of coaches, advocates and peers to help you grow and contribute to the growth of others. Stay passionate and focused but enjoy the journey.
What is your favorite song and why is it meaningful to you?
Currently, my favorite song is "Because I'm Happy" by Pharrell. I chose this song because I was recently in a coaching training at the office where we each had to determine what our superpower was in the workplace. I chose my superpower to be "Enthusiastic Optimist." I always try to find the positive in any situation and make the most of all opportunities. The song Because I'm happy resonates, because its a feel good song that you can't help but smile and sing along to.
What tips do you have on how to find work/life balance?
There is no magic formula. I believe in finding a balance that works for you and your life. I typically find that I like to work in bursts. To energize and recharge, I enjoy spending time with my friends and family. Rosalyn is very committed to giving back to the community around us through Perfect Pals, Make a Wish Foundation, Helping Hands and Food Frenzy (supporting local food banks).
Unedited Content Provided By Participants
Printer-friendly version
Email this CRN article