Printer-friendly version
Email this CRN article
Kim Austin
Business Development Manager - National Accounts, Intuit
Location:
Palm Springs, CA
URL:
http://www.intuit.com
Number of years in current position:
3
Number of years involved with indirect sales:
9
Twitter Handle:
@Kimtuitive
How have you personally helped advance your company's channel business over the past year?
As the Intuit BDM program wraps up year 3, we've seen a huge shift in the adoption of online & cloud technology among some of our largest national firms. This past year has been what seems to be the ultimate delayed gratification for the work invested in this channel to date. With this momentum has come added expectations & responsibilities, including my taking on many additional managed firms in a geographical region to help streamline the messaging across small and large firms. The BDM team is the fastest growing channel within Intuit as we look to round out our 2016 fiscal year, and I'm proud to be helping lead that charge with our partners.
What are your goals for your company's channel business over the next year?
With great success comes great expectations - isn't that what they say? I've said before that building this channel was like building the foundation of a house: you have to dig down deep & nobody really gets to see the effort that goes into making the foundation solid - but it's mission critical to the success once you reach the ground floor and build up. It's going to be thrilling to take our program to the next level as we drive Intuit toward the 2 million QBO customer mark this year.
What programs/initiatives does your company offer to support women in the workplace?
Intuit continues to be one of the highest-ranking companies when it comes to gender-equality. Whether it be official programs or initiatives or more of an overall flexibility enabling working moms to more easily balance their work-life/ home-life commitments, empowering women is etched in Intuit's culture. I continue to serve on the Intuit Womens Network CORE Leadership team (leading our Social charge), and promote our IWN core mission: To inspire and enable women to lead with confidence and make a difference for Intuit and our communities.
Who is your female role model?
I take pieces of so many amazing, inspirational women in my life and use their examples to better myself, so it's difficult to pick just one "role model"...but I'll call out one of my dear friends in the accounting channel, Shayna Chapman. Shayna is a CPA, entrepreneur/ small business owner, a mom, a highly active community supporter - and that's just naming a few of her hats. I admire Shayna for the fact that she carries so much on her shoulders, and does so with the upmost grace, usually while trying to help others.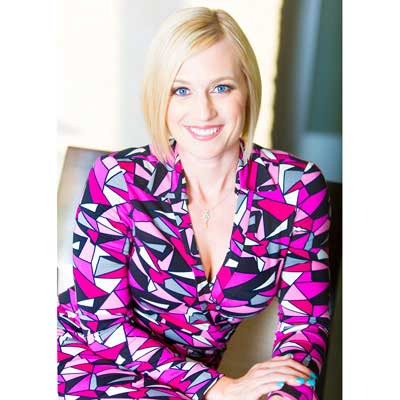 Fun Facts:
Is a social media addict
Can't put down her phone
Uses Twitter
Uses Instagram
Uses Facebook
Uses LinkedIn
Uses SnapChat
Has a mentor
Is a mentor
Loves Netflix
Loves to run
Has performed in a musical
Is a night owl

What advice would you give to young women aspiring to succeed in the workplace?
Something I've noticed lately about many young women is a lack of patience. Some might say it's just a millennial trait, but as I look back on my career, and see years where I stayed in the same role, and other times where I made big leaps quickly, I've learned that you must be patient and not expect things to happen overnight just because you worked hard. Sometimes it takes a while before the impact of your hard work is recognized, but when it does, take advantage.
What is your favorite song and why is it meaningful to you?
I'd have to say 'Baker Street' by Gerry Rafferty. Though it was written years before I was born, I remember it sounding contemporary when first I heard it (and I remember exactly where I was, and the circumstances, when it came on the radio that first time). Through the years, the lyrics have come to mean different things to me as I get older and gain more life experience. To me, it's a song that will keep getting better with age, and it always sounds fresh to me while still carrying the weight of memories and changes.
What tips do you have on how to find work/life balance?
I've learned a lot about work/ life balance this past year. In August, I became a wife (and step-mom), which gives me a greater sense of responsibility to ensure that my family knows they will always come first. Thankfully, my husband (who works for one of my channel partners, Avalara) and I share a passion for our careers, and we've come to be very content with our "work/ life integration" approach - even if that means bringing our laptops with us on our honeymoon.
Unedited Content Provided By Participants
Printer-friendly version
Email this CRN article