Printer-friendly version
Email this CRN article
Michelle Accardi
COO, CMO, Star2Star Communications
Location:
Sarasota, FL
URL:
http://www.star2star.com
Number of years in current position:
3
Number of years involved with indirect sales:
3
Twitter Handle:
@1marketingmaven
How have you personally helped advance your company's channel business over the past year?
I have greatly expanded my role at Star2Star. In addition to continuing on as CMO, I have taken over other departments such as tech support, and I now serve as the CMO as well. While Star2Star was undergoing a leadership transition, I took over as the Sales Lead in the 4th Quarter. Despite taking charge in the middle of our busiest sales time, I guided Star2Star to another record breaking year. In my role as head of tech support, I have dramatically improved service and cut down on wait times. Within the last month and a half alone, our call hold time for support is down by almost 20%. Throughout the company, I have led the charge to install new systems and upgrade existing ones, smoothing our internal operations and improving the support we provide partners and customers. The achievements that I personally am most proud of are keeping Star2Star in the Inc 500|5000 for the fifth consecutive year, which is a very rare accomplishment, and keeping Star2Star in the Gartner Magic Quadrant for UCaaS for the second consecutive year, which is critical to maintaining and expanding Star2Star's leading role in the industry.
What are your goals for your company's channel business over the next year?
Our primary goal is to continue to grow our customer base in the enterprise space. We are adding more and more large accounts and we intend to continue doing so. We also intend to increase the profits of our partners, add more qualified partners, and launch new channel programs and internal systems, as well as updating those that are currently in place.
What programs/initiatives does your company offer to support women in the workplace?
We're dedicated to creating an environment where women (and men) can be themselves and share their own diverse background, experiences, and perspectives. As a female executive, I am always looking for up and coming female talent to promote and opportunities to act as mentor. We treat people as individuals, and we have worked with many women (and men) on flexible, remote work opportunities that enable them to be with their families and meet the needs of their career. We also often host outings and parties that include our staff and their families.
Who is your female role model?
My mother has always been my female role model. I've always respected how she was able to balance her job with her family life. It's truly impressive how she has always been able to wear so many hats at the same time. She really gave me a great model to pattern my future personal and professional successes on.
One of our "Power 100 Vendors"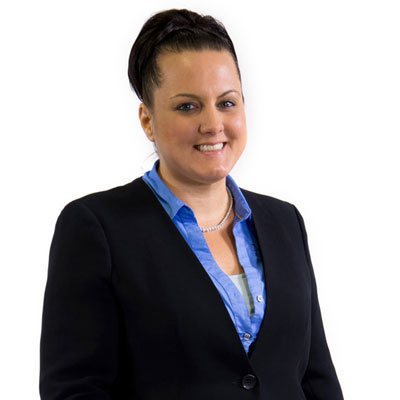 Fun Facts:
Is a social media addict
Can't put down her phone
Uses Twitter
Uses Facebook
Uses LinkedIn
Has an advanced degree
Has an MBA
Has worked for a solution provider organization
Has a mentor
Is a mentor
Is extremely organized
Has a pet
Collects art
Has performed in a musical
Is an early riser
Is a night owl

What advice would you give to young women aspiring to succeed in the workplace?
Seek out a network of men and women you admire and respect, and ask for their advice and help in growing your career. You won't get what you don't ask for.
What is your favorite song and why is it meaningful to you?
My favorite song is All Of Me by John Legend. It's meaningful to me because it's about accepting the special person in your life for who they are, including appreciating all of their edges.
What tips do you have on how to find work/life balance?
Love what you do for work, and believe in your own value. I think fear drives many women to over commit themselves, but the more you understand your intrinsic value, the less dependent you will be on your coworkers' opinions of you and the more you will be able to dedicate time to the activities and people that matter the most to you.
Unedited Content Provided By Participants
Printer-friendly version
Email this CRN article