Printer-friendly version
Email this CRN article
Rebecca Adolf
Marketing Director, Impact Networking
Location:
Lake Forest, IL
URL:
http://www.impactnetworking.com/
Number of years in current position:
1
Number of years involved with indirect sales:
12
Twitter Handle:
@impactmybiz
How have you personally helped advance your company's channel business over the past year?
I was originally hired not only for my design skills, but also my extensive knowledge and experience in digital marketing. I helped to formalize and build Impact Networking digital marketing services and client base as well as build our social media presence. This past year I have transitioned into the in-house Marketing Director to apply these skills full-time and focus on our own digital and print marketing initiatives. Since then I have designed and launched the "Champions Wanted" recruitment campaign, overseen a 9 segment video series currently in development and worked with our development team who launched a new responsive website, which I provided the website optimization and continue maintain and update the content. I have also sourced, coordinated and implemented a multi-city local billboard campaign in three of our new markets. We also recently acquired a production center in Peru, IL offering print, copy and scan services customers. I managed the print specialist team and have converted the majority of our print marketing in-house. We are working on our growing the local business through a digital marketing presence and local print marketing.
What are your goals for your company's channel business over the next year?
We have recently re-branded our corporate image and in the process of updating current marketing materials as well as producing new marketing pieces in-house. I am also working on a team to research and implement new marketing automation solution for both in-house and our customers.
What programs/initiatives does your company offer to support women in the workplace?
At our All company Meetings we had to two strong female and inspiring speakers: Robyn Benincasa Inspirational World Champion Eco- Challenge Adventure Racer and Carey Lohrenz, US Navy's first female Tomcat F-14 fighter pilot. We plan to have more strong female speakers in the future. Four female employees we're promoted or hired to management positions. We also have a very competitive paid maternity leave program.
Who is your female role model?
After meeting her in person, hearing her speak and getting the opportunity to talk with her one-on-one, Carey Lohrenz. She was very poised, confident and hearing her story, specifically the turning point where she made the decision to not accept discrimination because of her gender, but to bravely stand up for her dream. She is a true role model and American Hero.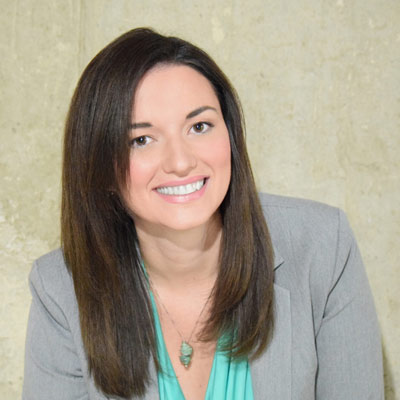 Fun Facts:
Is a social media addict
Can't put down her phone
Uses Twitter
Uses Instagram
Uses Facebook
Uses LinkedIn
Uses SnapChat
Has worked for a solution provider organization
Is a mentor
Loves Netflix
Is extremely organized
Has a pet
Collects art

What advice would you give to young women aspiring to succeed in the workplace?
You need confidence and drive to be the your best and to not become what others want you to be. I believe as a woman we have a natural competitive nature towards each other, but I feel it's important to build each other up. Don't feel you have to "act like a man" to succeed, "act like a professional."
What is your favorite song and why is it meaningful to you?
Current favorite song: Taylor Swift's "Shake it Off." It rings very true when you are faced with rejection or jealousy especially at work and because of office politics. Plus, it has a great beat. :)
What tips do you have on how to find work/life balance?
"Un-plug" - leave your emails, your work and your worry at the office. Don't even think about what you need to do the next day at work until you are back in the office. There needs to be clear boundaries, you need physical and mental breaks to be your best.
Unedited Content Provided By Participants
Printer-friendly version
Email this CRN article