Printer-friendly version
Email this CRN article
Linda Connly
SVP, GTM Integratoin Lead & Global Inside Sales, EMC
Location:
Hopkinton, MA
URL:
http://www.emc.com
Number of years in current position:
5
Number of years involved with indirect sales:
12
Twitter Handle:
@lindaconnly
How have you personally helped advance your company's channel business over the past year?
As the EMC go-to-market integration lead for the EMC/Dell merger, I am responsible for integration planning for our partners to ensure we maintain the partner and customer experience, and then preserve and build on the best of both company's channel programs to deliver an even stronger experience when the transaction closes. Our channel partner community is critical to our success now and into the future, and we believe with this combination, we will be able to offer the broadest, most comprehensive array of products and solutions globally. We will continue to do everything in our power to support and equip our partners with the best products, solutions and programs in the industry to be successful on behalf of their customers.
What are your goals for your company's channel business over the next year?
The world is changing, and the way organizations conduct business, connect with consumers, and deliver services is evolving as well. Companies need to shift their IT from being hardware-centric and standalone, to being fully integrated and dynamic to address how business is done today. Customers are looking to modernize, automate, and transform their IT initiatives. As EMC helps companies deliver on the promise of the Modern Data Center, our Business Partner Program must be equipped to provide solutions that offer flexibility, choice, and service at their core. In the year ahead, I look forward to building upon the BPP.
What programs/initiatives does your company offer to support women in the workplace?
EMC is passionate about enhancing their brand as a diverse and inclusive organization in the global marketplace. As such, the Women's Leadership Forum is key for the women in our organization, providing a community for employees to offer advice and support, share experiences, best practices and a few laughs. Additionally, WLF and its members are fierce advocates of career advancement and development opportunities for women.
Who is your female role model?
My mother, Duilia ( Dee) Pavone, is my role model. Traveling from Italy at the age of 12 she came to the United States. My mother was a self-made woman who started her own interior design company, out of the sheer love for decorating. She taught me, and my siblings, how to lead and not follow, how to care for others, and that family and friends are critical to success in life.
One of our "Power 100 Vendors"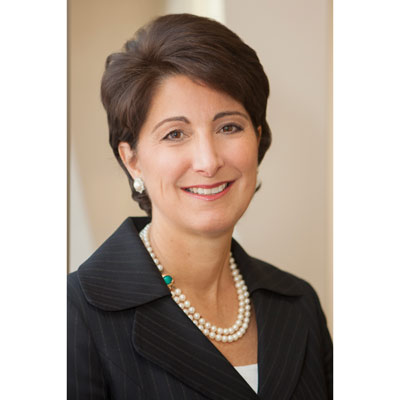 Fun Facts:
Uses Twitter
Uses Facebook
Uses LinkedIn
Has worked for a solution provider organization
Has a mentor
Is a mentor
Is extremely organized
Is an early riser

What advice would you give to young women aspiring to succeed in the workplace?
I would tell them to think of yourself as a "velvet hammer!" Being a woman in business can be very effective if we balance our feminine approach with power and divisive decision-making. We need to be direct communicators, hard workers willing to roll up our sleeves and just get the job done in a professional, efficient manner. In other words, be the hammer. Not only do we need to be hard driving, but we also need to balance it with the softer side of what makes women effective in business by being kind and compassionate, adding the velvet touch!
What is your favorite song and why is it meaningful to you?
Garth Brook's "The River" would be my favorite song. It speaks of dreams and taking chances, never knowing till we try. This song embodies the message I share with my children: go after your dreams, don't watch them pass you by. "Too many times we stand aside, and let the waters slip away, Till what we put off till tomorrow, has now become today. So don't sit upon the shoreline, and say you're satisfied, Choose to chance the rapids, and dare to dance the tides" ~ Garth Brooks
What tips do you have on how to find work/life balance?
To me, success is the ability to have a sense of balance between home, work and personal life. I truly believe it is impossible to have an equal balance with all three facets of life. The key is to ensure each element is present in your life, with the balance dictated by you- the one in the control seat.
Unedited Content Provided By Participants
Printer-friendly version
Email this CRN article