Printer-friendly version
Email this CRN article
With its release of Office 2007 Beta 2, Microsoft has overhauled all of the Office tools by restructuring its user interfaces, adding enterprise-integration capabilities and even adding a new collaboration tool called Groove. But will migrating to Office 2007 help improve existing Office applications?
After downloading a number of online sample files, including the Access 2007 Northwind template database, CRN Test Center engineers agree that only a couple of new features in Access, Excel and InfoPath 2007 will help solution providers enhance Office applications—and only when integrated with Microsoft's messaging and portal technologies.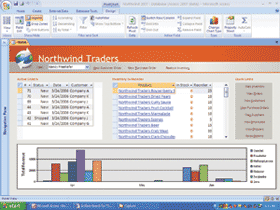 The new tab structures make toolbars highly accessible and provide more coordinated flow between different types of commands. Engineers found that the new navigation might slow down developers due to the overlaying of so many options placed in dockable panes, dynamic toolbars and highly mixed work areas. For instance, the new Object pane in Access 2007 was entrenched under a subpane stemming from the Navigation pane. The objects in the Navigation pane were viewable by object type and the main Access object options. All the database and native Access objects were jammed into one drop-down view.
However, mixing some capabilities provided better results when working with forms. Developers can now split forms by combining data sheets and form views, which help developers build quicker. Mixing values on fields is now possible in a multivalued field type. This feature is especially useful because now developers need not construct intermediate tables to create many-to-many relationships to indirectly link multiple values. Multivalued fields also are useful when integrating with Windows SharePoint Services, since it is a native data type used by SharePoint.
Underneath the new panes, Access 2007's features are mostly superficial. However, developers now have a couple of integration options that can improve data flow in VBA applications. When combined with other Office tools, Access developers will be able to extend applications by collecting data asynchronously. For instance, a new Data Collection feature located in the External Data command tab can generate forms capable of collecting data through an Outlook 2007 folder feature. With this feature, Access is able to generate InfoPath 2007 or HTML forms that are recognized by Outlook 2007.
Engineers tested the integration between Access and Outlook feature by generating an HTML form. After importing an Access 2003 application into a new Access 2007 database, engineers were quickly able to receive data from Outlook 2007 clients without having to modify the application significantly. By combining Access and Outlook, small businesses will now be able to build remotely accessible applications without investing in server-side infrastructures.
Access' security has been overhauled and is now integrated with the new Microsoft Office Trust Center, which arrives in the new Options pane. The new security model uses the concept of trusted sources based on directories' locations. The new security model in the Trust Center also is available in all Office documents. Macros can now be embedded inside object properties and can run independently.
The new Excel 2007 engine can work with 1 million rows and 16 thousand columns per worksheet. This data size improvement allows users to work with large OLAP data sources. The OLAP features allow developers to expand Excel's capabilities by building analytical applications using the Microsoft Office System available in Visual Studio 2005. With InfoPath 2007, Access and Excel applications can connect indirectly to COM objects.
The new programming features in Office 2007 provide many techniques to extend existing applications as long as solution providers use the integrated capabilities in these tools.
Printer-friendly version
Email this CRN article