Printer-friendly version
Email this CRN article

In a perfect world, software would work as well as vendors claim it does, but the reality is that applications are often rushed to market full of bugs or what some vendors like to call "undocumented features."
While bugs and glitches are certainly an annoyance, the real problem here is security. Many of the bugs uncovered in today's applications lead to security breaches. Thus, keeping software up to date has become a best practice for those concerned with creating and maintaining secure environments.
LANDesk Software has the answer to that dilemma in the form of LANDesk Patch Manager 8.7, a subscription-based software service that scans and remediates desktop and server systems. A big part of patch management is determining which ones are needed on any given system. Patch Manager handles that by scanning monitored systems and building an inventory of installed applications. What's more, the scanning process includes a vulnerability assessment, an important feature needed today to maintain and validate security.
Patch Manager was designed to be part of the complete LANDesk Management Suite, a grouping of products that offers soup-to-nuts control of corporate desktops and servers. That said, Patch Manager, which starts at $26 per node, can be installed and run as a stand-alone product, allowing VARs to start off with a patch management solution for their customers and then upsell to more advanced system-management capabilities as the need arises. In other words, VARs do not need to view patch management as a dead end when it comes to adding services.
Integrators will find everything they need to get started on the product CD, which not only includes the installation wizards, but also provides an abundance of documentation, which is a good thing, because the product can be quite complicated to install on an enterprise system.
Servers supported include Microsoft Windows 2000 and Windows Server 2003. Most sites will choose to go with a server-based installation and then push the required components down to individual PCs via a script.
Integrators will find that there is a long list of prerequisites that must be met to install the product. Luckily, the installation process checks for those elements and recommends the appropriate action.
Once the server portion of the installation is completed, administrators can focus on the agent deployment to the PCs on the network. That process is eased by using the LANDesk Management console, which installs by default with Patch Manager.
The management console, which runs on a Web browser, offers several options for deploying agents across the enterprise and can be used to deploy additional agents if the customer purchases other LANDesk management products.
Next: The Bottom LineThe first order of business is to get a valid list of patches; here, users can manually download the latest patch list or set up a schedule to automate patch downloading. That process is, in essence, the managed service portion of the product.
With a list of patches available and agents deployed across the network, patching PCs becomes a simple process of using the management console to identify needed patches and then selecting target systems.
The management console offers an impressive array of views. Administrators can customize the views to meet or work with the dozens of existing views and filters to build ad-hoc management reports.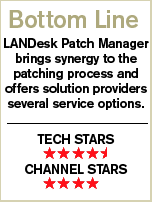 Those processes also drive policy creation. The product allows the creation of policies that can dictate when systems are scanned, determine whether they are to be automatically remediated or granted access or create automated notifications to the system administrator.
The key word here is flexibility. VARs can build custom reports and policies for their clients, offering them exactly what they need when it comes to patch management while inventing a new service opportunity at the same time.
Other features of note include: security alerts; scalable discovery; the ability to monitor and patch dozens of applications; and protected agent, a feature that resists tampering. For large installations, administrators will appreciate the product's ability to minimize bandwidth needs. That prevents large patch deployments or agent updates from hogging all the bandwidth on the LAN, thus minimizing the impact the product has on network performance.
Overall, Patch Manager does exactly what LANDesk claims it can do: manage the patching process with little fuss or muss. For VARs, the company provides an excellent solution to the patching problem that also can fuel management services and additional software sales.
Furthermore, the product proves to be a valuable ally for those struggling with compliance requirements, such as Sarbanes-Oxley and HIPAA, where vulnerability assessment and patch management can be key requirements.
For VARs looking to partner with LANDesk, a comprehensive channel program is in place that offers three-tiered access to partner-only features. Solution providers can be classified as Silver, Gold or Platinum partners, each of which is based upon technical expertise, market segment leadership, growth strategy and solution deployments. Partners will find that the company sells almost exclusively through the channel. In addition, it offers a partner portal that provides restricted access to product pricing, marketing materials, online training and account management.
The company also provides lead generation and works with partners to follow through on leads and close deals. LANDesk also hosts partner-only conferences for both technical and sales personnel. In addition, a dedicated sales team helps partners with MDF and co-op marketing efforts, along with post-sales support. A deal registration program rounds out the channel offering with additional discounts.
All in all, LANDesk Patch Manager enables partners to provide lucrative network services with little or no difficulty.
Printer-friendly version
Email this CRN article