Printer-friendly version
Email this CRN article
Managed services can fulfill a wide variety of corporate needs, ranging from IT management to security to human resources. CRN Test Center engineers examined two managed services, one that manages and maintains IT infrastructure and another that handles human resources activity.
Procuro PIMM
Companies with numerous IT resources or distributed physical assets often have difficulty monitoring their status, but Procuro tries to ease the process with its Personal Information Management Monitor (PIMM).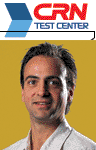 MARC SPIWAK
Technical Editor
Procuro's PIMM is a plug-in that shows the status of all managed services through an interface that looks and feels like an Instant Messenger window. For example, a PIMM installation configured for IT personnel might list the status of servers, networks, SANs, software applications and so on in a "buddy list" format.
PIMM can also be adapted for uses outside the IT industry. For example, companies can easily monitor multiple security cameras with the tool, or the owner of a chain of gas stations can use it to access sales records and fuel tank levels for all the gas stations.
PIMM can break down the data by state, city, individual stores and so on. Another use is that the manager of a chain of dairy farms might set up PIMM to check the temperature of hundreds of refrigeration units at multiple facilities.
PIMM uses open-source probes for data collection and is compatible with any operating system. The service can run on a server, desktop PC or notebook. Two other versions expand the tool's applicability: WebPIMM is a browser-based version of the product and Pocket PIMM supports wireless handheld devices. Because PIMM uses open-source probes, it can also manage any resource with a digital sensor.
Once configured by the solution provider, PIMM can be easily used by the average business person. Users can set up customized lists of job-related metrics, and then check those metrics from anywhere in the world via a Web browser. On a desktop or laptop, PIMM runs in the icon tray and displays colors to indicate the status of the resources being monitored. Green indicates normal system status, yellow is a warning threshold, and red indicates an alarm condition. With a mouse click, the user can review status information in detail and identify problems.
PIMM is a .Net-based subscription service sold only through channel partners. The technology is partner-branded, so resellers can provide a customized tool to meet customer needs. Subscription fees are based on the amount of resources managed, but pricing starts at $250 per month.
Procuro's single-level channel program provides pre- and post-sales support. Sales and marketing collateral are available online, and each partner is assigned a channel manager who assists in sales and integrations. Average margins can reach as high as 80 percent.
Genesys HRMS Suite
Human resources management is big business. Many companies, especially the larger ones, use managed services to handle payroll, benefits, retirement plans and other HR functions.
Genesys offers an integrated solution for human resources, benefits, self-service and payroll. The vendor's PeopleComeFirst Human Resource Management Suite (HRMS) is as good for SMBs as it is for large enterprises, and covers every stage in an employee's career.
Genesys manages HR functions for thousands of companies and therefore can offer its Web-based PeopleComeFirst HRMS solution and other services cost-effectively.
Genesys offers services that can be used separately or in combination with its HRMS offerings. A Payroll Tax Filing service supports all local, state and federal tax jurisdictions and all specialized taxes within the United States and its territories. Other services include printing and distribution of pay statements, off-cycle payments and year-end tax forms.
The company's HRO Partner Program was officially launched in April 2004. The program provides predictable and recurring revenue via a subscriber-based business model. Partners receive all necessary training, sales and marketing support. There are four partner levels in the program, and partner placement is determined by the size of a partner's cumulative subscriber base. Partners receive pricing discounts as their subscription base grows.
Genesys bundles all of its services into a single monthly fee but did not disclose the price it offers to solution providers. The company does allow partners to set their own pricing when offering services to customers. Average margins are between 40 percent and 50 percent.
CHANNEL PROGRAM SNAPSHOTS
> Genesys HRO Partner Program
COMPANY: Genesys
Methuen, Mass.
(978) 685-5400
www.genesys-soft.com
DISTRIBUTORS: Direct from vendor
TECH RATING:


CHANNEL RATING:

> Product Name: PIMM

COMPANY: Procuro
San Diego
(858) 720-9051
www.procuro.com
DISTRIBUTORS: Direct from vendor
TECH RATING:


CHANNEL RATING:

Note: Vendors can earn up to five stars for technical merit and five for their channel program. If the average of these two scores is four stars or greater, the product earns CRN Test Center Recommended status.
Printer-friendly version
Email this CRN article