Printer-friendly version
Email this CRN article
Android has invaded the Windows PC. Solution builders targeting the Android platform will want to check out BlueStacks App Player, an environment for running Android apps on Windows machines that's easier to set up and use than the Google's SDK and Android Emulator.
Within minutes of installing App Player, we were able to download and launch numerous Android apps that come pre-installed and run them in a window or full-screen (although switching between modes requires a restart of the environment). Android Apps perform well and have access to full graphics capabilities and network resources. Accelerometer, gyroscope and pinch-to-zoom functions are emulated with mouse movements and key strokes.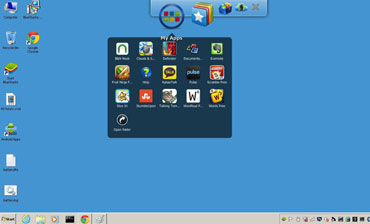 Click image for full-sized view.
Advantages of the BlueStacks App Player for developers include the ability to easily emulate an Android device for testing Android apps without the presence of hardware. And business users from the desktop can easily access notes, voice recordings, to-do lists and other data created on the road that would otherwise be stuck on the small screen. We also see App Player benefits in the areas of education and gaming. the free version limits the number of apps on Windows at 36 at a time.
[Related: The Daily App: BlueStacks Cloud Connect]
One of the keys to the App Player's crisp graphics performance is Layercake, which leverages the PC's graphics hardware to accelerate Android graphics processing and allows even Android's ARM-based apps to run on x86 systems. More than just an emulator, App Player presents a polished environment somewhat akin to Mac OS X, with its translucent application dock with icons that magnify as the mouse pointer draws near. Icons include those for installed apps, popular downloads.
Also clever is the App Player synchronization feature, which automatically keeps apps in sync between an Android device and the App Player environment on Windows. This is accomplished with a free Android app called Cloud Connect. After App Player installs on a machine, a prompt appears asking for Android device info, after which a code is generated that, once entered into Could Connect, enables the pairing of a Android device with the PC.
This BlueStacks video quickly demonstrates how the whole process works.
BlueStacks as a company was launched in May of last year, and released public alpha versions of App Player and Cloud Connect the following October, around the time it nabbed $6.4 million in series B funding from AMD, Citrix and others. A version for Mac OS X is reportedly in the works.
Printer-friendly version
Email this CRN article