Printer-friendly version
Email this CRN article
Common CD-RW drives have really plummeted in price over the past year or so, and now DVD recorders have started down the same path. Earlier generations of DVD recorders were limited in media compatibility and carried a high cost.
However Sony's new DRU-510A DVD burner can record on any kind of DVD media, whether it be DVD-R, DVD R, DVD-RW or DVD RW, in addition to recording on CD-R and CD-RW media. Many owners of earlier DVD recorders found them to be useless because of the incompatibilities between the various DVD media formats.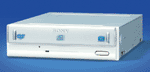 The DRU-510A works with any format, giving users the best possible level of compatibility. The internal Atapi drive is quite affordable, too, so it doesn't add much to the price of a whole system.
CHANNEL PROGRAM SNAPSHOTS
> Sony DRU-510A DVD Recorder
PRICE: $180
WARRANTY: 1 year
DISTRIBUTORS: Ingram Micro, Tech Data
AUTHORIZATION REQUIREMENTS: None
COMPANY: Sony Electronics San Jose, Calif.
(800) 352-7669
www.sony.com/dvdburners
Printer-friendly version
Email this CRN article