Printer-friendly version
Email this CRN article
This year, two new products from Microsoft are for the first time offering enterprise collaboration capability and extending the Microsoft Office suite well beyond the desktop. This great leap forward propelled Live Communications Server and Windows SharePoint Services to the lead among knowledge management and collaboration products.
Live Communications Server provides encrypted instant messaging, archiving and follows industry accepted SIP/SIMPLE communication protocols. Moreover, it offers an integrated presence-awareness feature that allows users to know if other users are connected online, busy or offline. The presence-awareness feature can easily be tied to other Office products and other applications through an API. Especially since it is integrated into Office, Live Communications Server is the most effective collaboration server CRN Test Center engineers reviewed this year.
Along with Windows SharePoint Services and Windows 2003 server, Live Communications Server forms a robust document sharing system where users can co-edit documents and communicate in the same environment or workspace. What's more, Live Communications Services provides an auto-replication feature that synchronizes documents in realtime among clients so users can see changes as they happen.
Windows SharePoint Services extends Live Communications Server by including some document management capabilities like document tracking and versioning. Windows SharePoint Services includes a forms library for XML content publishing and specialized templates that allow data-driven sites to be built quickly. Users will need to work with Microsoft tools or other third-party tools to publish XML or attach databases to sites.
In addition, Windows SharePoint Services sites can let users create external links to documents connected to e-mail attachments. This feature alone can help streamline e-mail and extend e-mail into more of a collaborative environment because users no longer need to send attachments with e-mails but can simply work with and exchange attachments from a Windows SharePoint Services site. Live data can be posted into a Windows SharePoint Services site using a Web Part, and the sites can also track meeting agendas.
Microsoft provides a broad range of support, training and general assistance to solution providers. Training courses, Webcasts, forums and other technical resources are available at Microsoft's developer network Web site, www.msdn.com. Also available as part of Microsoft's tiered channel program: on-site hands-on and online training, volume rebates, demos and sales resources.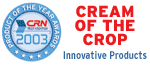 CHANNEL PROGRAM SNAPSHOTS
> Microsoft Live Communications Server (with Windows SharePoint Services and Windows 2003 server)
PRICE: $1,059 (with 5 CALs)
VERSION: 2003
DISTRIBUTORS: CDW, CompuCom, Dell, HP
COMPANY: Microsoft
Redmond, Wash.
(425) 882-8080
www.microsoft.com
Printer-friendly version
Email this CRN article