Printer-friendly version
Email this CRN article
For solution providers looking for a robust file server with a rich feature set and low cost to sell to small businesses, the HP TC2120 is the answer.
The HP TC2120 brings enterprise-class server capabilities to small businesses. The server is easy to service and upgrade, and its low noise makes it an ideal option over server appliances. Plus, HP bundles Microsoft Small Business Server 2003 with the server, thereby speeding setup and bringing a full array of business features to SMBs.
While many systems integrators have forsaken the traditional file server to sell server appliance-based solutions to the small-business market due to their lower costs, easier installation and bundled applications, HP is hoping to buck the trend with the introduction of its TC2100 series of servers.
HP has brought prices down to attractive levels by leveraging both lower-cost components and bundling Microsoft Small Business Server 2003, a complete small-business networking suite. The combination of these elements aims to give server appliance vendors a run for their money.
In the small-business realm, ease of service and upgradability are key factors. The TC2120 sports an easy-open case, with ample room to add or switch out components, but that ease of serviceability comes at a price, namely size. While most server appliances are no bigger than a toaster, the TC2120 uses a large tower case. The TC2120 proves to be very quiet, despite the unit's multiple cooling fans.
The $1,669-tested configuration included a 2.66GHz Pentium 4 processor, 1 Gbyte of RAM and a pair of 40-Gbyte ATA drives, providing adequate performance for the needs of most smaller networks. Test Center engineers would like to see a low-cost backup solution as an option.
Solution providers will find the TC2120 a fine starting point for most any small network. The unit is readily upgradable to meet future needs and is of quality construction to ensure reliability. Installers may want to add external backup and UPS options to further enhance uptime and data integrity.
HP provides a broad range of support for solution providers through its PartnerOne channel program, including compensation programs that reward solution providers for success in new markets or for displacing competitors. Collateral tools, presentations and other sales and technical resources are available at the HP Partnership Web site. The vendor customizes its marketing assistance and other support to the needs of its partners.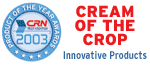 CHANNEL PROGRAM SNAPSHOTS
> HP TC2120
PRICE: $1,669
WARRANTY: 1 year
DISTRIBUTORS/INTEGRATORS: Arrow, Avnet, Ingram Micro, Synnex, Tech Data
AUTORIZATION REQUIREMENTS: None
MODEL NUMBER: TC2120
COMPANY NAME: Hewlett-Packard
Palo Alto, Calif.
(650) 857-1501
www.hp.com
Printer-friendly version
Email this CRN article