Printer-friendly version
Email this CRN article
With wireless gateways dropping in price and increasing in feature sets, they are becoming a boon for small businesses to increase worker productivity. However, the security issues surrounding wireless networks often elicit immediate trepidation in solution providers and network administrators. D-Link Systems addresses these concerns with its new line of AirSpot gateways, specifically with the AirSpot DSA-3100, and so wins top honors among the year's wireless gateways for SOHO.
In choosing the AirSpot, CRN Test Center engineers first sifted through a wide assortment of wireless gateways, searching for devices that are hassle-free and easy to set up, and that offer wide coverage and strong security at a reasonable price. Engineers liked the fact that the DSA-3100 provides a simple and cost-effective way for a business to create an independent hot spot, whether wired or wireless, while maintaining a private network.
The AirSpot DSA-3100 uses policy enforcement to tame security issues, such as the amount of time particular users can connect to the network, how much bandwidth each person is using and which Web sites users are accessing. Security is readily addressed by the gateway's built-in port-blocking capability. Integrators can block specific inbound ports and addresses to further protect client PCs. The device also includes logging capabilities to troubleshoot security and configuration issues.
D-link offers a robust feature set and clear documentation with the DSA-3100 gateway, and solution providers will appreciate the ease of installation and management offered by D-link's Web-based console. The DSA-3100 scales well, allowing additional PCs to be added with ease.
D-Link's DSA-3100 incorporates an accounting facility, which is useful when deployed in commercial networks or for hot spots providing services to the public. The unit also provides all of the necessary features to venture beyond just sharing a broadband connection.
Test Center engineers found the DSA-3100 one of the easiest gateways to install and were impressed with the unit's clear, Web-based management console. The unit is housed in a small plastic case and is powered by an external AC adapter. There also is a 10/100 authentication port that can connect to a switch. There is a 10/100 LAN port, which does not require authentication to access the Internet, along with a 10/100 WAN port, power connection and reset button on the back of the unit. All ports, LEDs and switches are clearly labeled. However, the unit lacks a reset button on the case, so users must unplug the unit to reset the routers.
Setup is straightforward and can be accomplished in a few minutes. Installers start by attaching an Ethernet broadband connection into the gateway's WAN port and then attach workstations to its LAN ports. Additional Ethernet hubs or switches are accommodated by the port crossover option on the back of the unit.
Client PC setup is well-documented and straightforward. Installers need only to configure the client PCs to accept IP addresses from the DSA-3100 integrated DHCP server. The DHCP and subnet settings are fully customizable for nonstandard installations.
Toward the end of 2003, D-Link unveiled a two-tier solution provider program, with partner level based on sales volume, along with a dedicated resource-rich Web site. Field-based engineers provide pre- and post-sales technical support, and dedicated account representatives provide sales and marketing assistance. D-Link also tailors its pricing and marketing assistance based on specific solutions and opportunities.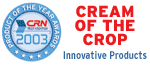 CHANNEL PROGRAM SNAPSHOTS
> D-LINK AIRSPOT DSA-3100 GATEWAY
PRICE: $599
WARRANTY: 1 year
DISTRIBUTORS: ASI, D&H, Ingram Micro, Tech Data
AUTHORIZATION REQUIREMENTS: None
MODEL NUMBER: DSA-3100
COMPANY NAME: D-Link Systems
Irvine, Calif.
(949) 788-0805
(800) 326-1688
www.dlink.com
Printer-friendly version
Email this CRN article