Printer-friendly version
Email this CRN article
No matter what type of business a company is in, the quality and availability of its data backup system is virtually as important as the data it protects. Without a solid backup solution, there's no telling what could happen if disaster strikes.
Maxtor's OneTouch 250-Gbyte external hard drive answered that call and became the winner in the removable storage category of the 2003 Product of the Year. Test Center engineers looked for storage devices that are hassle-free, removable, affordable and easy to use out of the box.
Integrators will find that the OneTouch's ease of use is unmatched: The drive can be set up in a matter of minutes, and management is easily mastered. Also, the concise documentation that accompanies the unit underscores its consumer-product roots. For Macintosh OS 9 and OS X, users should reformat the drive with the Mac OS extended format for proper operation.
Once the software installation was completed, setting up the OneTouch feature to automatically start Retrospect was a cinch. Users open the OneTouch interface and point the Retrospect .exe file to the OneTouch button. The Dantz software offers a clean, easy-to-follow interface that both technical and nontechnical people can appreciate.
With Retrospect, users can offer a progressive backup of selected source volumes or duplicate contents from one volume to another. They can also prepare their computers for disaster recovery with a bootable CD. Retrospect is not licensed for Windows 2000 Server, according to Maxtor.
For the performance test, a notebook running the Retrospect client was backed up entirely to a server, reformatted and then restored. In all backup procedures, the device worked in harmony with the software.
Solution providers will find that the OneTouch is a good fix for storage problems in the SMB space. The unit's feature set, field upgradability and simplicity make it a clean solution in environments where extended fault tolerance and high speeds are not critical.
The OneTouch is great for most SMBs to use in place of a traditional file server because it provides a reliable source of storage. Maxtor claims the device is expandable so administrators can easily connect up to 63 drives via FireWire or 127 USB 2.0 drives with USB 2.0 hubs. Such daisy-chaining of multiple OneTouch units could serve as a Band-Aid for many business problems, but because the Test Center had only one drive available for testing, engineers couldn't fairly evaluate the scalability of the product.
Maxtor is increasing the amount of its business that flows through the channel and helps partners target specific vertical markets through sales and technical assistance, marketing funds and solutions design. Marketing materials, technical resources and sales tools are available at the vendor's solution provider Web site.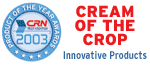 CHANNEL PROGRAM SNAPSHOTS
> NETMOTION WIRELESS MOBILITY V401
PRICE: $349.95
AUTHORIZATION REQUIREMENTS: None
DISTRIBUTORS/INTEGRATORS: Arrow, Bell Micro, D&H, Ingram Micro, SED, Tech Data
MODEL/ORDER #: A01A250
WARRANTY: 1 year limited warranty
COMPANY: Maxtor
Milpitas, Calif.
(408) 894-5000
www.maxtor.com
Printer-friendly version
Email this CRN article