Printer-friendly version
Email this CRN article
Notebook computers are available in so many new and interesting shapes and sizes, it's getting harder to choose the best one. In picking the CRN Test Center notebook of the year, engineers wanted something a little different yet representative of the numerous advances in notebook technology in 2003. It had to be portable yet have a big screen. It had to be relatively lightweight yet be loaded with features. Also, a Centrino unit was preferable because of its high efficiency and long battery life.
Some of the new wide-screen notebooks are awesome but simply too big to lug around. Then along came HP's nx7000. This is one of the first products to come out of HP using its new joint design team, and it has design cues taken from both HP's and Compaq's prior product lines. The nx7000 is small enough to carry yet big enough to impress and entertain.
The nx7000 is useful for working on multiple applications side-by-side, high-resolution graphics and any other application where lots of screen real estate is beneficial. It's also perhaps the best notebook in the world for watching wide-screen DVD movies. Of course the notebook's combo drive can play DVD movies, but it also records on CDR and CDRW media.
The nx7000's 15.4-inch display has a very fine native resolution of 1,680 x 1,050. The unit weighs only 6.5 pounds, even though it measures 14 x 10 x 1.36 inches. It features a Pentium-M processor running at 1.6GHz with as much as 2 Gbytes of memory. To comply with the Centrino branding, the nx7000 also features built-in 802.11b wireless connectivity. Other features include a hard drive as large as 60 Gbytes, integrated Secure Digital slot, JBL Pro Speakers, three USB 2.0 ports, a FireWire port, S-Video out, 10/100 NIC, 56K modem and one Type II PC card slot. The speakers are quite powerful for a notebook, and they have their own volume and mute buttons. Overall the unit is very well made, with a top-quality fit and finish.
The only complaint engineers have about the nx7000 is that the power jack is located on the right side of the unit and not the back, and so it can get in the way at times. But this is as bad as it gets. On the plus side, engineers played a 2 1/2- hour DVD movie solely on battery power; when the movie was over, the nx7000 reported that it still had a 40 percent battery charge.
HP provides a broad range of support for solution providers through its PartnerOne channel program, including compensation programs that reward solution providers for success in new markets or for displacing competitors. Collateral tools, presentations and other sales and technical resources are available at the HP Partnership Web site. The vendor customizes its marketing assistance and other support to the needs of its partners.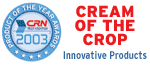 CHANNEL PROGRAM SNAPSHOTS
> Hewlett-Packard Business Notebook nx7000
PRICE: $1,999
WARRANTY: 1 year
DISTRIBUTORS/INTEGRATORS: CDW, Comark, CompuCom, Insight
AUTHORIZATION REQUIREMENTS: None
MODEL NUMBER: DL855A#ABA
COMPANY NAME: Hewlett-Packard
Palo Alto, Calif.
(800) 752-0900
www.hp.com
Printer-friendly version
Email this CRN article