Printer-friendly version
Email this CRN article
If you or your customers have been avoiding virtualization because of its cost and complexity, the CRN Test Center has discovered a hidden jewel that blasts through both of those roadblocks. CloudShare this week announced ProPlus, a version of its "IT as a service" platform that permits deployment of as many as six virtual instances of Linux, Oracle 11g, Office 2010, Active Directory, SharePoint or other Windows server apps for just $49 per month.
If $49 is still too much, CloudShare offers its slightly more limited free version, which in our tests was found to be quite responsive and stable.
In beta since about this time last year, the so-called Pro (free) version is limited to three virtual machines, only one of which can be running Windows (XP or 7) on a single CPU, plus 120 GB of storage, 6 GB of memory and certain runtime restrictions. The Pro version is aimed at software developers and testers, and anyone just looking to kick the tires.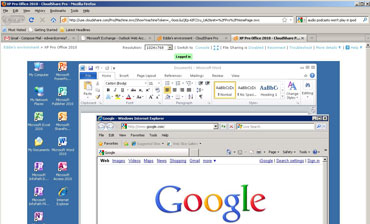 Click image for full-sized view.
After a brief sign-up and e-mail validation process, we were able to create a VMware image running Windows XP and Office 2010 in literally two minutes. Starting up and accessing the virtual machine from a Windows box took just a few minutes more. After automatically downloading a small Firefox plug-in, the browser displayed the virtual instance surrounded by a white border (see screenshot). Within the border were controls for setting the resolution, switching to full screen and to enable file sharing with the local host system. With fire sharing enabled, local drives appear along with virtual ones in My Computer.
The best way to install software on the virtual machine is from the Internet. In the screenshot, you'll notice that we're running Microsoft Word and IE, the latter of which is displaying a live Web page. From here, you can browse to Web sites, FTP and mail servers, telnet or other Internet-based resources that contain additional software you'd like to install on your virtual desktop.
Once set up as desired, the image can be preserved using a snapshot, which also permits a title and descriptive text to be added. Once the snapshot is completed, a message appears offering to e-mail a link for sharing the image.
Next: CloudShare MeasurementsPerformance
In terms of performance, the virtual instance of Windows XP Pro behaved as responsively anything we've set up here in our labs; it varies only by the WAN connection.
For an objective performance measurement, we installed Geekbench 2.1.11, which reported that we were using an Intel 440BX desktop reference platform with 1 GB of memory and a Xeon X5550 single-core processor running at 2.5 GHz. Geekbench reported a high score of 3306, just 650 points lower than dual-core virtual machine that was otherwise similarly equipped.
We also tested access to the virtual image from Safari and Chrome browsers on Mac OS X (Firefox isn't supported because it lacks HTML5) and IceWeasel on Linux. After a few initial snags and errors that we believe were specific to our test Mac, we were able to access the image from Safari, which was slower than through Firefox/Windows but was adequate. The version of Chrome we were using (9.0.597) was too new and as yet unsupported by CloudShare. IceWeasel worked perfectly and was as responsive as Windows. Virtual images also can be accessed using Microsoft's RDP client.
Virtual Lincenses
According to the company, all operating system and application instances are fully licensed, even in the free version. According to Uri Gilad, CloudShare's director of product management this is accomplished through a combination of clever licensing agreements with Microsoft, Oracle SAP, VMware and others, and a well-designed time sharing algorithm that suspends idle images and frees up their licenses.
"We take away the worries of licensing, which is huge for some organizations," Gilad said, adding that once companies begin to rely on the free version, paying for it becomes easier to justify. "So far, that has proven to be a very successful strategy." They're also now seeing a user community begin to emerge.
CloudShare CEO Zvi Guterman admitted that the company's reseller program is still emerging for the $49 per month ProPlus product. Will there be a reseller discount? "We're still not sure. Resellers can mark that price up a little bit because it is most aggressive. But there's also room for additional value-added services, and companies are actually doing that," he said.
Guterman described companies using a virtual instance of SharePoint, which is available as part of the $49 package, as a front-end for SAP. "SAP is a wonderful ERP system, but the SharePoint front-end is usually better for integration with e-mail and Office documents," he said, adding that even SAP itself uses SharePoint this way internally. And for companies still planning a migration to SharePoint 2010 from SharePoint 2007, CloudShare has proven to be an attractive staging platform.
Here in the Test Center, we believe that the truest endorsement of a product comes when we choose to use it ourselves. And for rapid set up and tear down of testing platforms, prototyping software testing tools, demonstrations and proofs of concept, we recommend CloudShare whenever there's a need for high-performance, fully licensed copies of popular software and operating systems that can be deployed and ready in minutes from any browser.
Printer-friendly version
Email this CRN article