Printer-friendly version
Email this CRN article
It's a buyer's market in today's world of notebooks. There is an abundance of variety and performance available, so buyers can choose which features they need and what kind of money they want to spend. And regardless of what a potential buyer is shopping for, it's hard to spend a lot of money on a notebook computer these days.
Here the CRN Test Center looked at a new Acer America notebook that offers terrific value and a new Toshiba America Information Systems
notebook that's full featured, yet highly portable.
ACER ASPIRE 5100
Acer's new Aspire 5100 offers a lot of value. The main reason for this is that it's powered by a 1.6GHz AMD dual-core Turion 64 X2 processor that delivers 64-bit performance at a low cost.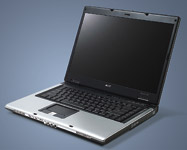 It also means that the notebook can be configured with Windows XP Home Edition or Windows XP Professional x64 Edition. The 64-bit processor also makes the notebook Windows Vista ready.
Other features include 1 Gbyte of memory, a 120-Gbyte hard disk, a 15.4-inch widescreen display with a 1,280 x 800 pixel native resolution and an 8X DVD-Super Multi double-layer recorder—all at a cost of $899.
The WXGA display has a 16:10 aspect ratio that not only enhances DVD movie playback, but also allows two documents to be viewed side by side or a wide spreadsheet to be seen in its entirety. This 15.4-inch WXGA display offers 30 percent more screen space than a 15-inch XGA display at no extra cost. The display is driven by an integrated ATI Radeon Xpress 1100 graphics accelerator.
Integrated 802.11a/b/g wireless and Gigabit Ethernet are part of the Aspire 5100 package, as is one Type II PC Card slot, three USB 2.0 ports and a modem. A built-in 5-in-1 card reader supports Secure Digital, MultiMediaCard, Memory Stick, Memory Stick PRO and xD-Picture Card memory modules. Acer's QuicCharge battery technology can charge the battery up to 80 percent of capacity in just one hour.
The notebooks were tested for performance using PassMark's PerformanceTest software, which can be used for free for up to 30 days.

Acer Aspire 5100
www.acer.com/us
Tech Rating:


Channel Rating:


Price: $899
Distributors: Advantech, D&H, Ingram Micro, SED Seneca Data, Synnex, Tech Data
Note: "Recommended" status is earned with a score of 8 stars out of 10.
The Aspire 5100, with its dual-core AMD Turion processor, scored 336, which is an excellent score, although not quite as fast as some Intel-powered notebooks that have been tested in recent months. Regardless, it's hard to beat the Aspire 5100 in terms of bang for the buck.
It's easy to become a partner in Acer's single-tier channel program. Acer's products, in particular its notebooks, have better quality and performance than in years past, and more than 9,000 resellers now purchase Acer products on a monthly basis, up from 1,500 two years ago.
There are no costs associated with joining the channel program, and a dedicated partner Web portal offers marketing collateral, competitive information, presentations and more. Note that all of Acer's products are sold through the channel.
NEXT: A look at the Toshiba Tecra M6
TOSHIBA TECRA M6
Toshiba's Tecra M6 is a new business-class notebook that offers the power and performance of a desktop computer.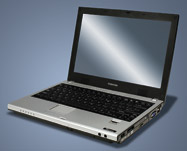 Designed for easy portability, the Tecra M6 features a 12.1-inch widescreen TruBrite display with a WXGA native resolution of 1,280 x 800 pixels. Everything is housed in a compact chassis that measures 11.8 inches wide by 8.9 inches deep by 1.3 inches high and weighs only 4.1 pounds.
The Tecra M6 contains one of the latest Intel Centrino Duo Core CPUs, making it fully capable of handling processor-intensive multimedia and business applications. More specifically, the notebook contains a 1.66GHz Intel T2300E Core Duo Processor, which has a 2 Mbyte L2 cache and a 667MHz Front Side Bus.
Standard memory is 512 Mbytes of DDR2 SDRAM, which can be increased to a maximum of 4 Gbytes. The system also contains an Intel 945GM Express chipset and an Intel Graphics Media Accelerator 950 graphics accelerator with 8 to 128 Mbytes of dynamically allocated shared graphics memory.
The Tecra M6's state-of-the-art optical drive is a DVD SuperMulti double-layer drive that can record and play up to 11 different CD and DVD formats. Of course, the notebook also contains a full suite of communication technologies including Gigabit Ethernet, Intel 802.11 a/b/g wireless NIC and a V.92 modem. Bluetooth is optional.
An intuitive GUI called ConfigFree allows for hassle-free wired, wireless and Bluetooth connections while a one-touch presentation button makes it easy to switch the display to an LCD projector or external monitor.
Other features include an 80-Gbyte SATA hard drive, a 6-in-1 media card reader, three USB 2.0 ports and one PC Card slot. As configured, the Tecra M6 costs $1,299.
The Tecra M6 incorporates Toshiba's EasyGuard technology, which is a series of hardware and software enhancements that improve security, connectivity and ease of use. Enhancements include hard disk protection, a spill-resistant keyboard and a biometric fingerprint scanner. A built-in accelerometer detects when the notebook is falling and temporarily parks the hard drive's head. Vibration-dampening materials further protect the hard drive against shock and impact, while integrated impact bumpers in the outer corners further protect the internal components.
The Tecra M6 also features an embedded Trusted Platform Module, or TPM chip. The TPM chip stores encryption keys, passwords and user credentials to ensure that data cannot be accessed or seen by anyone but an authorized user.
The Tecra M6, with its 1.66GHz T2300E Core Duo Processor and 512 Mbytes of memory, scored 372.2 in the PassMark PerformanceTest benchmark. This is slightly faster than the AMD-powered Acer.

Toshiba Tecra M6
www.sell.toshiba.com
Tech Rating:


Channel Rating:


Price: $1,299
Distributors:ICG Distributors, Ingram Micro, Insight Direct USA, Synnex, Tech Data
Note: "Recommended" status is earned with a score of 8 stars out of 10.
Toshiba's comprehensive channel program consists of three levels: Silver, Gold and Platinum. All resellers initially participate as Silver Members, in which they sell up to $100,000 in Toshiba products during a fiscal half. Gold resellers must sell a minimum of $100,000 in Toshiba products during a fiscal half. Platinum resellers must sell a minimum of $250,000 in Toshiba products during a fiscal half.
Exclusive to Platinum and Gold Membership participants is the Monthly Rebate Program, while the Marketing Development Fund Program is exclusive to Platinum Members. All partners can take advantage of a 40 percent discount on demonstration units, a 20 percent increase on service reimbursement, can participate in the Preferred Partner Rewards Program and configure custom systems through Toshiba's Build-to-Order Program. Margins range from 8 percent to 11 percent.
Printer-friendly version
Email this CRN article