Printer-friendly version
Email this CRN article

ViewSonic's new VX2835wm wide-screen display arrives with some of the best high-definition features the vendor has to offer.
Today, constant price slashing and improvements in picture quality have made large flat-panel displays like the VX2835wm the first choice for many businesses. Larger and wider monitors can help increase user productivity by enabling them to view multiple pages at once. CRN Test Center engineers also find that the wide-screen aspect ratio is excellent for viewing videos and for working on images.
ViewSonic's 27.5-inch display is an all-in-one entertainment and productivity monitor. Engineers were particularly impressed with the quality of the unit as well as its ease of use and deployment.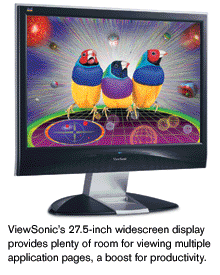 As the largest of the VX product line, the VX2835wm is ideal for viewing two legal-size documents side by side. Users also can easily view more opened Microsoft Windows applications with the large wide-screen aspect ratio. Priced at $825, the VX display is a great value because users can get more viewable screen space than monitors with standard aspect ratios.
According to ViewSonic, the VX2835wm has an incredibly short gray-to-gray video response time of 3 milliseconds, which is extremely fast for LCDs. In fact, the monitor has one of the fastest video response times of all ViewSonic monitors. Just to compare it, the other monitor in the same VX line has a video response rate of 8 ms. The fast video rate makes the VX2835wm display a solid choice for animation and video rendering.
For testing, the VX2835wm display was connected to an Intel Core 2 Duo system running Windows XP. The system had 2 GB of memory and an NVIDIA 880 SLI video card. The monitor arrives with HDMI, component, composite and S-video connections. Engineers used the digital DVI connection to maximize signal throughput. Video was played using CyberLink's PowerDVD 7.
To simplify testing, engineers used some of the default settings available on ViewSonic's OnView on-screen controls, which are built right into the VX2835wm display. OnView has auto image adjustment, including a color temperature adjustment option. The factory color temperature preset for this display is 6500 Kelvin, adequate for most lighting conditions.
To check for video accuracy and performance, engineers tested the VX2835wm with animations from open-source 3-D content creation community site Blender.org and various video clips. In addition to evaluating the monitor by viewing the images and videos, engineers used Blender software and processed a rendering to see how well all the elements of an image actually came through the monitor. Engineers chose to process a complete animated rendering. The still images located at Blender.org were created using the Yafray open-source ray tracing application.
Next: The Bottom Line
The VX2835wm display performed admirably during the Blender rendering process. Since the display supports resolutions up to 1920 x 1200, engineers rendered the images from 800 x 600 up to its highest native wide-screen resolution at 60Hz. Running the software on the highest wide-screen ratio was demanding on the processor. Engineers, however, did not see any noticeable flickering or delays during the intense animation rendering.
The display also comes with a new color engine that's designed to optimize skin tones and colors in general. The display also has a built-in RGB filter for vertical striping and an antiglare glass surface. The skin tone option is available under the OptiColor feature on the on-screen menu. After a few tests, the skin tones on the video clips closely matched the colors viewed from a reference CRT.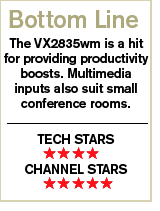 The VX2835wm has an 800-to-1 contrast ratio, which is less than a typical ratio for LCDs, but the lack of contrast did not cause any problems with shading or display of the color black. Brown hair with black tones and highlights is difficult to render under normal lighting. Surprisingly, the monitor showed all test animations and some of the still images with perfect balance. The high processing speed is probably partly responsible for hiding any inaccuracies with black.
The VX2835wm display arrives with built-in speakers, an earphone output and line-in. Stereo sound out of the monitors is good enough for listening to online conferences. However, the speakers were not loud enough for large conference rooms.
On the channel side, solution providers laud ViewSonic's representatives for being attentive to partners whenever pricing changes occur.
"ViewSonic is responsive to any price changes. We always get a sales call to warn us before prices change," said Tarun Bhakta, president of solution provider Vision Computers, Norcross, Ga. ViewSonic also offers growth incentives and spifs, including lead generation and prequalified referrals.
ViewSonic's Access partner program provides online training and Webinars to help educate partners on profitability. ViewSonic also offers VX2835wm demo units to all levels of the Access program, and gives discounted pricing and free shipping to channel partners. Making a profit on monitors rests entirely on margin since VARs have only a few choices to deliver services.
ViewSonic offers a unique flooring program to partners so they can buy through distribution. The flooring program also offers 60-day financing. ViewSonic's Growth Incentive Rebates provide discounts on qualifying sales. The flooring program is also part of an online product evaluation process that speeds new technology delivery to demo rooms.
Printer-friendly version
Email this CRN article