Printer-friendly version
Email this CRN article

Desktop computers generally are a bland lot, with the exception of those pretty ones from Apple. Next to the streamlined and stylish iMac and the Mac Mini, the traditional beige or white rectangular PC boxes look boring.
No longer, as Hewlett-Packard unveils the HP Compaq dc7800 Business PC, a sleek and compact desktop that economizes desk space and has a small footprint. While the silver and black box doesn't boast the newest and best components inside, it still packs enough performance to meet most business users' needs.
The Ultra-slim Desktop measures 9.9 inches wide by 10 inches deep by 2.6 inches high, and weighs about 6 pounds, 11 ounces. The Ultra-slim can be mounted to the back of the Integrated Work Center stand on an L1906i 19-inch flat-panel monitor, hung on a wall or even attached under the desk using the HP Quick Release system.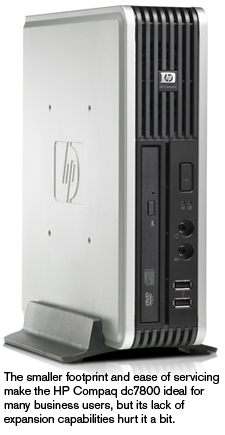 The HP Compaq dc7800 Business PC comes in three models, all designed to minimize the computer's footprint without affecting the desktop's functionality. The Test Center received the Ultra-slim Desktop preinstalled with Windows Vista 32-bit Business. Small Form Factor and Convertible Minitower versions are also available.
The dc7800 Ultra-slim Desktop is based on Intel's Q35 Express chipset and supports the chipmaker's vPro platform. The Ultra-slim model uses an external power supply and can be preinstalled with Microsoft Windows Vista 32-bit Home, Windows Vista 32-bit Business and Windows Vista 64-bit Business. It comes with the Integrated Intel Graphics Media Accelerator 3100 for graphics and Gigabit Ethernet. The computer features an Intel Core 2 Duo processor, 1 Gbyte of memory, an 80-Gbyte hard drive and a PATA LightScribe DVD writer.
On the back panel, there are six USB 2.0 ports, audio line-in and line-out ports, an RJ-45 network port, two PS/2 connectors for the mouse and keyboard and both a VGA and a DVI-D port for display.
The front panel has additional headphone and microphone jacks and USB 2.0 ports. The Small Form Factor version can ship with a 1.44-Mbyte disk drive and SATA optical drives. The Convertible Minitower comes with a SATA combo optical drive and a 16-in-1 media card reader. All dc7800 models can also support Intel Core 2 Quad processors, Intel Pentium dual core processors and Intel Celeron processors.
The Ultra-slim Desktop is easy to service because most common tasks can be done without tools. The case is easy to remove: turn the thumb-screw and slide the top cover off to see the motherboard. The front-mounted optical drive latches into place without screws and can slide out for easy swapping. The hard drive is located in a small bay under the optical drive and has a flip handle that disconnects it from the board and lifts out. Two SODIMM memory chips lie parallel to the board and are easily removable.
Next: The Bottom LineWhile it's easy to service, expansion is near to impossible. The Ultra-slim Desktop has a 3.5-inch internal bay for the hard drive, an external Slimline Drive bay for the optical drive and no expansion slots on the motherboard. The Small Form Factor version at least has four low-profile PCI and PCI Express slots as well as two full-height PCI slots. The Convertible Minitower comes with six full-height PCI and PCI Express slots.
The dc7800 Business PC is ideal for users for whom saving space, not customization, is a priority. The Ultra-slim Desktop is priced at $972, fitting most procurement budgets. The Integrated Work Center stand is priced at $89 and the L1906i 19-inch flat-panel monitor at $339.
The machine delivers desktop-quality performance and graphics. It's quiet, easy to set up and keep out of the way and has enough USB ports to support a wide variety of peripherals. CRN Test Center engineers still felt the setup looked unwieldy and cluttered with all the cables.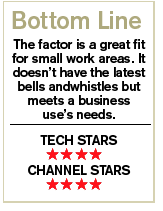 The Business Desktop PC comes with an assortment of security tools, such as HP Backup and Recovery Manager and HP ProtectTools. ProtectTools offers a set of multifactor authentication and access controls for identity protection. The dc7800 is also capable of securing data under RAID 1 configurations.
The dc7800 Ultra-slim Desktop was tested for performance using PassMark's Performance Test software. The dc7800 scored 629.7, which is an excellent score for a desktop and higher than most business laptops.
For businesses considering laptops for employees in a small work environment, the dc7800 offers more oomph at a more affordable price for a similar amount of desk space.
Hewlett-Packard's channel program offers three partner levels. Basic Business Partners must sign a business development agreement and complete a basic sales course. Gold Partners must also do at least $5 million annually in HP sales and Platinum Partners must do at least $25 million annually in HP sales.
Benefits for Basic Business Partners include access to PartnerOne, demand generation, certification and a compensation program. Gold Partners receive all of the above plus market development funds and dedicated HP sales support. Platinum Partners also have access to a dedicated marketing consultant. The partner portal offers ready-to-run demand-generation tools as part of the marketing toolkit. Other benefits include sales rebates, influencer fees, spifs, certification rebates and demo units.
Basic Business Partners receive subsidies on program development and waived fees. Gold and Platinum partners have access to marketing funds for special projects. Accrued MDF is also available to Gold and Platinum members.
Printer-friendly version
Email this CRN article