Printer-friendly version
Email this CRN article

The Test Center recently took a look at Eastman Kodak Co.'s ScanMate i1120 scanner and spent a few days putting it through its paces.
One up-front note is in order: Kodak is shipping the product exclusively through CDW, the Vernon Hills, Ill.-based direct market reseller, through March 31. After that, Kodak, Rochester, N.Y., will make it available through online retailers as well as commercial resellers.
The i1120 is a high-quality duplex scanner with a very small footprint (approximately 6 inches high and 6 inches deep, and just less than 12 inches wide). At 20 ppm (200 dpi) and an optical image resolution of up to 600 dpi, the i1120 is at the top of the small desktop class for a color scanner.
Testers found that the small size of the i1120 makes it an unobtrusive addition to the desktop, although the foldout output tray nearly triples the amount of space it requires. It is fast and relatively quiet.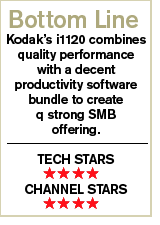 The built-in Smart Touch feature is intuitive and took only minutes to configure and start using. Once installed, up to nine task shortcuts can be configured (seven are prepopulated, but can be customized) with choices of saving to a file, launching an application, sending via e-mail and sending to a printer or fax/printer. Smart Touch isn't new to Kodak scanners, but it is a feature that quickly becomes second nature.
Kodak offers a hit-and-miss collection of software bundled with the scanner, but it will fill the overall needs of most users. Included is Nuance Communications Inc.'s ScanSoft PaperPort 11, ScanSoft Omnipage 15 and Newsoft's Presto BizCard 5. PaperPort is a document management program that is powerful and easy to use, while Omnipage's OCR software, though powerful, is not intuitive. VARs with small-business customers may find themselves fielding an additional support call or two because of it.
The BizCard software scans business cards and then, using OCR, extrapolates as much data as it can and populates a Rolodex-type interface with an image of the original business card included. It provided spot-on accuracy except when scanning cards with dark backgrounds or logos and text immediately next to each other.
One of the best pieces of software in the bundle is also the newest: the DYMO File application isn't yet included in the package on disk but it is available as a free download via Kodak's Web site. It scans and files stacks of documents at once, including a nifty feature that allows for assigning bar codes to groups of documents. It can print either plain documents or, if included in the solution, labels via a label maker. Included with the bundle is DYMO File LT—which permits up to 200 such scans per month. The company is promising a higher-end version of the software that can support 5,000 scans per month, as well as one with unlimited scans at a later date.
The Kodak ScanMate i1120 carries a list price of $495. The company in October launched its Desktop Scanner Reseller program with a goal of enlisting more than 1,000 solution providers in North America.
For VARs that don't mind waiting in line behind CDW to deliver the product, it's a solid imaging solution that should be considered a good fit for small or midsize customers with specific desktop imaging and output needs.
Printer-friendly version
Email this CRN article