Printer-friendly version
Email this CRN article
Of all the major segments in IT, the printer space remains one of the most expansive and competitive. While consolidation in the software and PC spaces has continued apace over the past year, the printer industry is as broad as ever—and choices remain as complex when it comes to color printing.
What's most important: speeds and feeds or quality? Pricing or management capability? Color quality or ease of deployment?
For this comparative review, the CRN Test Center looked at color laser printers from eight different manufacturers. As reviewers looked at one printer after another, it became clear that many vendors focus on one or two strengths over all others.
Methodology
Different factors are key in different enterprises when deploying a color laser printing solution. A marketing department may be interested primarily in color quality. A law office may be interested in occasional color, but mostly in print speed since output volume may be huge. A small real estate branch office may want a combination of decent color and speed, but may also be concerned with noise level. Larger IT shops may put a premium on management. CFOs are, of course, concerned with both cost of acquisition and of operation.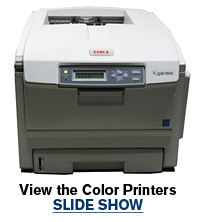 In this comparative review, reviewers tried to incorporate enough of these items into a single methodology so that a VAR could make a strong case in any one of them. We examined energy efficiency, including how many watts were consumed during print jobs and idling. We looked at pages-per-minute and how long it would take to print a longer, 185-page job. We looked at management consoles of each, noise output and, of course, color quality, where we ran the same five color pages out of each printer and gave each set from each printer to three reviewers to determine an average result.
There were some common strengths from one printer to another. Web-based management consoles all tended to perform baseline tasks such as monitoring toner levels and printed pages. All were network-intelligent and played nice in an enterprise setting. All were essentially energy-efficient, kept noise to office-acceptable levels and could be deployed and up and running in 10 to 15 minutes.
In other cases, there were notable differences. When we invited each vendor to participate in this review, we gave them our methodology and left it up to them to decide which configuration in their product lineup to send. A vendor could send us its fastest, most powerful color laser printer—but if that unit was the most expensive, price would be a factor as well. A vendor could send us a printer that produced the most vibrant, beautiful color documents, but that might be so slow that other printers would do better in a side-by-side comparison.
In the end, the Test Center combined the results of the tests on each printer to determine, from a VAR's point of view, which would be the easiest to install, deliver value, maintain and from which to profit. The winner wasn't the fastest, the cheapest or the one that produced the best color. But it was so good at all those tasks—and from a company with a solid channel program—that it was our top pick.
Next: First Place: Oki Data C6150
First Place: Oki Data C6150
When reviewers took the C6150 out of the box, we had no idea how it would rate compared to the other printers. The company has made extensive investments in color quality and its channel programs over the past 18 months, but it hasn't all been without pain. The numbers we saw with the C6150 are enough to make its channel partners feel good: It spit out 30 pages in a minute, 185 pages in 6 minutes, 20 seconds; its colors were vibrant—second only to Xerox in quality—and its management console was robust and outstanding, offering nice administrator-level security and monitoring capabilities.
The unit installed on the network within minutes and, at about 50 pounds for the base unit, won't break your back on deployment. Oki Data Americas Inc. lists MSRP for the unit at $699, making it more than a fair value on acquisition.
Oki Data has stopped doing business through brick-and-mortar retailers and sells exclusively through the channel (except for one large customer that insists on a direct relationship, its executives tell us, and Oki Data still compensates VARs that were involved in the deal). Last year, the company announced a four-tiered, ProfitOPS channel program; revenue commitments include $15,000 quarterly for Premier partners, or $6,000 per quarter for standard partners. Depending on a partner's level, margins can range from 12 percent to 29 percent.
Second Place: Xerox Phaser 6180 DN
Xerox Corp. has made significant strides in boosting the quality of its office-focused color printers over the past several years, and it's clearly continuing on that path. We loved the Phaser 6180 DN. For the price (estimated street price of $649 with rebate), this Phaser's color quality was absolutely stunning (it's the only vendor that uses solid ink rather than cartridges). Its management features were solid, with a Web-based browser that monitors page count, job lists, toner levels and provides for e-mail alerts when something goes wrong. It was just as energy-efficient as almost any of the units we reviewed. Its one downfall: It took 10 minutes, 23 seconds to print a 185-page document, which put it at the lower end of the speeds-and-feed testing.
Xerox has a tiered channel program that VARs can enter with annual sales starting at $10,000. Program margins can reach 10 percent and product margins can hit 10 percent to 14 percent, the company says. Whether you're a Xerox reseller or you compete with Xerox, you'll want to keep your eyes on the Stamford, Conn.-based company's office product line because it's clearly on an upward trajectory.
Third Place: Hewlett-Packard Color LaserJet CP6015
This machine is a monster. It's a heavyweight on at least three counts: its size (about 300 pounds, deadlifted), its performance (it was the fastest printer we reviewed) and its cost (a starting list price of $4,199 makes it the most expensive unit we reviewed).
Test Center reviewers were torn about how to size up this LaserJet given that it was on such a different level from every other color laser printer we examined. First, the numbers: It printed 185 pages in 4 minutes, 55 seconds—more than twice as fast as some of the other units, and it printed 40 pages in one minute. Its 107 watts consumed while printing shows it has a sizable appetite for power. Installation was simple, but did require a couple of people to unbox and lift it into position. Nobody wants to drop 300 pounds or $4,199 worth of anything.
On the downside, we also considered that it was as much as 10 times more expensive on a list-price basis than some of the other units. But if this is a unit that is deployed to do the work of between five and 10 smaller printers, the benefits of consolidation, lower management overhead and a much longer duty cycle could make a customer very happy. Combined with Hewlett-Packard Co.'s robust channel program, market-leading brand, vibrant color output, powerful print driver support that is great even with Linux, we decided it was one of the best.
Next: Fourth Place: Lexmark C532N
Fourth Place: Lexmark C532N
Lexmark International Inc. has clearly been struggling over the past two years with revenue and earnings. But its problems have largely been limited to its consumer and OEM businesses, while sales of its branded, commercial color printers have done better. With the C532N, we found a capable and worthy color laser printer. From a speeds-and-feeds perspective, it printed 17 pages in a minute, 185 pages in 8 minutes, 26 seconds, had a standard Web-based management interface and was the easiest to set up. Lexmark has been criticized for its color offerings at times, but its color quality was no slouch and, considering the $499 list price, worked well as part of an office solution. The downside: Lexmark is in a brutally competitive space and, to start outflanking its competitors, it may want to add stronger, on-board management features. If you're a Lexmark reseller, you can take comfort knowing that the company is keeping up, but keep an eye on its offerings to make sure its competitors don't start pulling away further.
Lexmark's longtime, robust channel program provides what resellers have come to expect: discounts, lead-generation programs, marketing support, and demo and evaluation units. There's no cost to become a Lexmark reseller.
Fifth Place: Kyocera-Mita Eco Pro C220N
The Kyocera Mita Eco Pro C220N lived up to its reputation and was the most energy-efficient printer we reviewed in this round, consuming 60 watts of power during a 21-page print job, for example. For VARs with customers that need multiple printers throughout an enterprise—from several dozen to perhaps several hundred—the EP C220N could provide a compelling argument from a cost-savings point of view. At a list price of $1,030, it also could provide a compelling argument from a cost-of-acquisition standpoint. From a performance perspective, it was a little disappointing, printing 18 pages per minute and 185 pages in 9 minutes, 51 seconds with middle-of-the-pack color quality.
Kyocera-Mita, though, is investing much in the channel, has launched some managed print services offerings—including one with distributor Synnex—and does have higher-performing and faster units in its lineup. Kyocera also provides VARs with a nifty, Web-based TCO calculator and marketing collateral for managed services, in addition to financial incentives.
Sixth Place: Samsung CLP-610
Starting from almost nothing a few years ago, Samsung Electronics has come far, fast. At this pace, it's poised to threaten other vendors' channel market share in the next 24 months, if not sooner. Right now, though, there's a clear gap between veteran players in the color laser space and Samsung.
The numbers: The CLP-610 printed 14 pages per minute, 185 pages in 11 minutes, 29 seconds, offered a friendly, browser-based management console that gave clear views of toner life, unit page count, roller information, machine and network settings, and support information. Its color quality was above-average. The unit is list-priced at $399 but street pricing was found as low as $329, making it clearly the least expensive unit reviewed in this roundup. Its form factor is nice and light and it deployed in a snap. Earlier this year, Samsung announced enhancements to its PrintCentives channel program and provides financial incentives, marketing funds and help with creating specific, customer-focused solutions in some cases.
Next: Seventh Place: Konica-Minolta Magicolor 4650dn
Seventh Place: Konica-Minolta Magicolor 4650dn
First, the good news: The Magicolor 4650dn has one nifty feature the others don't: an LED display on the printer unit that tallies the number of pages that have been printed as each print job is under way. This might not sound important, but in an office where large print jobs are routine, it's a huge help. Don't underestimate this feature. In addition, the 4650dn knocked off a 185-page print job in 8 minutes, 17 seconds, making it one of the fastest units we saw, and color quality was OK.
Now the bad news: The documentation provided us with an incorrect administrator password, a big no-no in the Test Center lab. Also, while management and monitoring can be conducted either by Web browser or through a stand-alone application, the application was balky for us on a PC running Windows Vista.
Starting price on the 4650dn is $699, and Konica-Minolta says VARs in its channel program can expect to attach between 50 cents and a dollar of services for each dollar in product sales. It's not a flash-in-the-pan channel vendor either, as its program was established in 2003.
Eighth Place: Brother HL 4070 CDW
This unit printed 19 pages in one minute, and 185 pages in 9 minutes, 50 seconds, so speed is not its primary selling point.
Its color quality proved somewhat flat compared to the most vibrant of the printers we reviewed, but it was clear. The HL 4070 CDW deployed in less than 10 minutes, provides an LED indicator for toner levels, was quiet—64 db during a print job—and efficient (about 80 watts while working, 19 watts while idle). List pricing on the unit is $499, but we saw street prices as low as $378. Brother is clearly focused on channel sales, selling nothing directly (some of these units are sold by e-tailers), providing demonstration units to VARs, evaluation units for end users, special pricing and market development funds. We'd like to see the company improve either color quality or performance in future product releases.
Bottom Line
In a document output space that remains as broad and competitive as ever, the Test Center finds that Oki Data's C6150 combines features that will help VARs deliver the greatest value to customers with a great opportunity to grow their own businesses. Offerings from Xerox, HP and Lexmark are also very impressive, as are their channel programs—ensuring that while Oki Data might be No. 1 today, it will have to keep fighting hard to keep that position.
Printer-friendly version
Email this CRN article