Printer-friendly version
Email this CRN article
For a variety of reasons, multifunction printers (MFPs) are continuing to see nice strength in the market as system and IT consolidation continue unabated. All-in-ones, as they are also known, offer small and midsize offices the features of multiple devices, but with a relatively smaller footprint and price. They can let SMBs attain the same consolidation benefits, in many cases, as larger enterprises if on a smaller scale.
The CRN Test Center recently took a look at the Brother International Corp. MFC-9840CDW, which combines the functions of a printer, scanner, copier and fax machine—all in color. Measuring 20.9 inches by 21 inches by 20.5 inches and weighing in at just over 83 pounds, unboxing and installing the unit is not a one-person job. But once seated in its location, setup and configuration are pretty intuitive.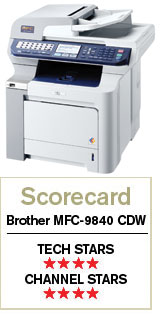 Connections include USB and Ethernet ports, as well as RJ-11 jacks for fax usage. The 9840 also supports 802.11 b/g wireless. After loading the four toner cartridges and connecting the power and network cables, reviewers turned the unit on and it automatically configured its network connections using DHCP.
Drivers and included utilities are easily installed to both Windows and Mac computers with a wizard that launches from the CD. Applications included in the install are ScanSoft PaperPort 11 by Nuance and Brother's Control Center 3.
Connecting to a wireless network is a little trickier. The software suggests temporarily connecting a computer directly to the device via Ethernet for configuring, but if that's not possible it walks you through each individual step, and anyone confident enough to configure their router shouldn't have trouble getting it to work. SecureEasySetup is also supported for those with capable routers.
Reviewers found print quality above average, with text documents specifically well-defined. Although not as bright and vibrant as some of the other color lasers we've tested, photos and images were sharp and colors accurate. One thing we noticed, though, is that if a document is placed directly on the glass for copying or scanning, it must be centered along the left edge (most machines make the user line up a corner). This makes it a little more time-consuming to use the device in this way; however, there is an automatic document feeder that eliminates this issue.
Brother's Control Center 3 is an extremely handy program that allows users to remotely customize and launch every function of the device. With its easy-to-use interface, one can scan to an image, OCR-generated file, an e-mail or a file. There are also options for configuring and utilizing the copy and PC-Fax features, as well as four programmable copy buttons for special configurations. Additionally, an address book can be populated for easier faxing of documents. The 9840's administrative settings also can be changed from this GUI.
Print speeds are average, with most jobs performing at about 20 pages per minute (ppm). Brother's specification sheet claims a maximum of 21 ppm, so our findings weren't too surprising. Scans were also pretty quick, coming in at about 15 ppm. Color copies and scans were obviously slower, but not unreasonably so, as was the warm-up time from sleep mode (approximately 40 seconds).
Our measurements showed typical power consumption to be 19 watts in sleep mode and 29 watts when idle in standby. The average draw when printing was about 115 watts, but every two to three pages, the usage would spike up to the 1,000-watt range for a second or so before dropping down again. The specification sheet states noise levels when printing to be 54.5 dB. Our meters measured 57 dBA.
Another feature of the 9840 that is also gaining popularity among other MFPs is a USB direct interface. Essentially a USB 2.0 port in the front of the device, users can insert a flash drive and print certain types of files directly from it. The same port also can be used to print pictures directly from a PictBridge-compatible digital camera.
With a maximum monthly duty cycle of 35,000 printed pages, the MFC-9840CDW is more than capable of handling the requirements of most offices. It is a nicely blended balance of features that covers a good number of basic needs, and with a MSRP of $699.99, it won't break the bank.
Printer-friendly version
Email this CRN article