Printer-friendly version
Email this CRN article
Entry-level servers are becoming more and more common, as they now cost less than basic desktop systems from not too long ago. Although some solution providers prefer selling complete servers that provide out-of-the-box functionality and performance, many companies want more control over what goes into the servers they sell and opt to build their own. Solution providers can increase profits by installing low-cost drives, processors, memory and other peripherals into a bare-bones server, and then selling the server and components at a higher price, customized to the user's preferences.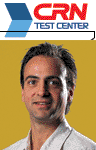 MARC SPIWAK
Technical Editor
Asus Computer International's AP140R-E1/A12 is one such bare-bones system, and it comes with a lot of room for solution providers to add components and peripherals. Asus is well-known in the motherboard business, and CRN Test Center engineers believe it makes some of the best products available. A lesser-known fact is that Asus now offers other products such as the AP140R-E1/A12.
This bare-bones server is affordable and easy to
service and build, allowing solution providers to tailor it to customer needs. When fully stocked with parts, the AP140R-E1/A12 is ideal for general server use as well as in server farms, network clusters and front-end Internet data center applications. All of Asus' 1U rack-mount AP140R-E1/A12 servers are shipped with a motherboard, 300-watt power supply and cooling fans installed, but all other components must be added by the solution provider. The motherboard supports a single 3.2GHz Pentium 4 processor with an 800MHz front-side bus. Four memory slots support up to 4 Gbytes of either ECC or non-ECC DDR RAM, allowing for bandwidth up to 6.4 Gbps. The unit as populated by the vendor costs $465.
The motherboard also features two 64-bit, 66MHz PCI-X slots and one 32-bit PCI slot. Because of the short 1U chassis, risers are needed to facilitate the installation of expansion cards. However, the cards can only be installed horizontally into the two PCI-X slots, meaning that the 32-bit PCI slot cannot be used for expansion.
The inside of the AP140R-E1/A12 server is relatively barren and clutter-free. The motherboard is small and the Serial ATA (SATA) cabling is laid out much more
neatly than if it was done with ribbon cables, making it easy to perform a quick check of cable connections. The case provides ample room for two SATA hard drives or two ATA 133 hard drives, as well as a bay for a CD-ROM or DVD-ROM drive.
CRN Test Center engineers tested the Asus unit with the standard components included by the company, as well as a 52X CD-ROM drive, which Asus installed for demonstration purposes.
Display capabilities are driven by an on-board ATI Rage-XL graphics accelerator chip with 8 Mbytes of memory. A VGA port on the back panel connects the ATI chip to a monitor. The server also features two Gigabit Ethernet ports, one serial port, PS/2 mouse and keyboard ports and four USB 2.0 ports--two on the rear panel and two on the front panel for easy access when the server is installed in a rack.
The Asus AP140R-E1/A12 server is easy to set up. Opening the case is as simple as removing two Phillips-head screws and two thumbscrews. Mounting hardware is already in place in the front portion of the chassis, easing installation of the two hard drives and the optical drive. The processor and memory DIMMs pop into slots in the traditional manner.
Once the additional components are installed and the cover replaced, the rack-mounting rails can be added. The AP140R-E1/A12 can also be set up as a tower instead of a rack-mount unit.
Managing the server is easy because Asus bundles its Asus System Web-based Management 2.0 software with the unit. Developed in-house, the ASWM software lets network administrators remotely monitor, manage and upgrade multiple servers and system status via the Web without the need for any client-side software.
The ASWM software's main screen presents an image of the server with all major components numbered and labeled. When something goes wrong, a signal highlights the component that is the most likely source of the problem. Warning signals appear orange, while red indicates a critical condition.
The ASWM software also shows system status including temperature, component voltages, fan speeds, disk capacity and other information. When something unusual occurs, the ASWM software can alert an administrator or other designated support personnel via e-mail or a telephone message. ASWM software supports Windows 2000, 2003 and XP, Red Hat Linux 8.0/9.0 and Novell SuSE 8.2.
The Asus Advantage channel program has been in place for 15 years. The company offers marketing collateral, rebate programs and co-promotion opportunities. Solution providers can purchase Asus' products through general distribution without the need for authorization, and the company allows solution providers to set their own profit margins.
CHANNEL PROGRAM SNAPSHOTS
> ASUS AP140R-E1/A12

COMPANY: Asus Computer International
Fremont, Calif.
(510) 739-3777
www.asus.com
DISTRIBUTORS: Amax, ASI, MA Labs, Supercomm, Synnex, Wintec
TECH RATING:


CHANNEL RATING:

Note: Vendors can earn up to five stars for technical merit and five for their channel program. If the average of these two scores is four stars or greater, the product earns CRN Test Center Recommended status.
Printer-friendly version
Email this CRN article