Printer-friendly version
Email this CRN article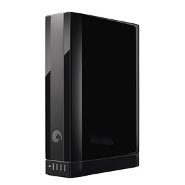 Seagate Free Agent GoFlex
When it comes to desktop storage, when is enough enough?
According to disk drive maker Seagate, four terabytes is not more than enough.
The company's Free Agent GoFlex with 4 TB of storage, and included backup software, gives Seagate new bragging rights to the highest-capacity, single-touch solution for desktop storage. With street pricing between $199 and $249 (the official list price), it just may be very reasonable for those who work with large quantities of multimedia or large databases.
We took a look at the 4 TB monster out of the box, anxious to understand whether this was simply overkill or whether it could provide real value in the workplace – particularly for those who work with media of large file sizes.
Here's what we got once we opened the box:
• The book-sized Free Agent GoFlex drive, in black, weighing in at two pounds, three ounces;
• A power cord;
• A USB 3.0 cord (compatible with USB 2.0) to connect to the PC;
• On the drive itself, Seagate's pre-loaded software disk management dashboard, as well as a free version and a trial of a paid version of Memeo backup software, among other tools.
After plugging the drive in and hooking it via USB to the PC (an Intel quad-core desktop running Windows 7 Ultimate), it took about a minute to automatically install the basic drivers and appear in the Computer folder. Clicking on the icon drive for the GoFlex, we simply then clicked on the Setup.exe file and installed the included software on the PC. It started backing up immediately. (With about 1 TB of data on the PC, the dashboard let us know it could take more than 10 hours to run the full backup the first time. That's to be expected.)
So it was a snap to install, configure and start backing up and saving large files that we didn't want on the boot-up drive.
There's an awful lot of comfort to having that amount of capacity in one device on a desktop, and we like Seagate's straightforward and simple approach.
Consider: with the emergence of the latest generation of smart phone and tablet technology, mobile devices have now become data capture devices with scanning, video, photographic and audio recording capabilities. While the cloud may store some of that data, there will often be the necessity to keep it on a desktop as well. More data, more media, means the need for more capacity and Seagate addresses that for now with a 3.5-inch HDD drive that can hold 4 TB. (Actually, it was closer to 3.63 TB when you factored in the preloaded software and firmware.)
The downside, of course, to storing that much data on a single disk is risk. And with the device capable of continuous, non-stop backup, the wear and tear on a drive would appear to increase the possibility of failure. Seagate provides a two-year warranty on the drive. The retail outlet where we picked this up pushed hard on the $20 replacement package.
But the bottom line is that we really love the capacity and USB 3.0 performance that Seagate has packaged here, and for desktops in an environment where there are other secondary backup options (like a NAS or Blu-ray), and the need for quick access to a lot of data and media, this is a product that really demands consideration.
Printer-friendly version
Email this CRN article