Printer-friendly version
Email this CRN article
In August, ViewSonic helped simplify the transition to 3D gaming and content consumption with the release of the V3D245, which at the time was among the industry's first LCD monitors to build in the infrared emitter necessary to work with active shutter glasses. It also includes the glasses. Other solutions add to the cost and complexity with a separate emitter and its cables and clutter, and we favor ViewSonic's approach, which taps the DVI bus for all communications.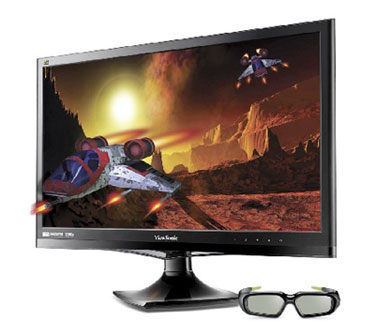 The ViewSonic V3D245 is a 24-inch LED-lit panel with built-in NVidia 3D Vision emitter the 3D Vision glasses. The TN panel offers a 2ms response time and maximum refresh rate of 120 Hz and puts out up to 1920 x 1080 at 60 FPS (frames per second). While it's simpler and less cluttered than other 3D systems we've tested, there remains a bit more refinement before we'd call the solution plug-and-play. The first bad impression arrived along with the installation software, which showed it old age when the ending splash screen declared that it was "created by Macromedia," a company acquired by Adobe in 2005.
While the ViewSonic software appeared to have installed correctly, a trip to NVidia's excellent driver web site was still necessary to obtain the drivers needed to get the GPU and monitor working together correctly. Once there, we also downloaded some sample content to use for evaluating the monitor.
We tested the Core i7 980X on an Intel DX58SO motherboard with 4 GB of DDR3 1333 memory in a matched set of 2 GB DIMMs, Windows 7 Pro 32-bit. The 980X's half-dozen cores operate at 3.6 GHz in Turbo mode, and revert to 3.33 GHz when less processing power is required.
The GPU used for testing was an NVidia GeForce GTX 280, which enabled frame sequential stereo 3D over its dual-link DVI port and included cable (when we accidentally used a different DVI-D cable, the monitor displayed an instruction to use the included one). DVI is typically considered the preferred interface for gaming since it permits any 3D game to operate at 1080p and 60 FPS. The HDMI 1.4 port (cable not included) supports 24 FPS at 1080p, but can operate at up to 60 FPS at 720p.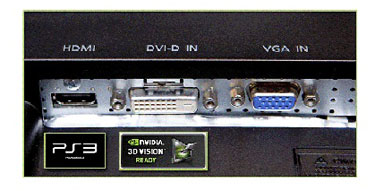 After more than an hour of hoop jumping and driver tweaking, we were satisfied that monitor and GPU were working correctly and that we could begin viewing content. The V3D245 and its LED backlight push a bright 300 nits of eye-popping luminance, while a pair of SRS stereo speakers pump out decent sound. Typical of a TN panel, colors shift slightly when viewing at an angle, but the screen's fast refresh rate is a joy to behold.
The ViewSonic V3D245 lists for $499, and includes a built-in IR emitter, DVI-D, VGA and audio cables, NVidia 3D Vision active shutter glasses with USB charging cable and a three year warranty. The glasses also include interchangeable nose pieces and a storage pouch. Although we like USB charging over (yet another) dedicated power adapter, a USB port on the monitor itself would have been a nice touch, even if only for charging the glasses. For its all-inclusive bundle and good quality picture at a reasonable price, the CRN Test Center recommends the ViewSonic V3D245, despite a driver installer developed in a previous decade.
Printer-friendly version
Email this CRN article