Printer-friendly version
Email this CRN article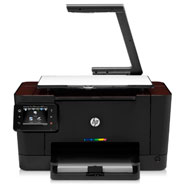 HP
TopShot LaserJet Pro M275
One of the consistently reliable units in Hewlett-Packard's massive, $100-billion-plus organization has been its Imaging & Printing unit. It's also been where a good number of innovations have taken place over the past decade -- from universal print drivers to WiFI integration.
Now HP has added 3D scanning to its stable of lower-priced desktop printers -- meaning its TopShot LaserJet Pro M275 can now scan just about any shaped object and not just flat documents.
The CRN Test Center had an opportunity to take a look at an early version of the TopShot LaserJet Pro M275, and found it could offer nice value to an organization. Beyond the novel "TopShot" 3D scanner, the printer provides solid wireless networking capability -- including wireless integration with a network and wireless printing between devices and the TopShot LaserJet Pro M275.
The scanner itself is, essentially, a camera rather than a more-traditional roller scanner. This device on the MFP is hinged, and lifts up so the camera and flash can take a positioned snapshot of the object you want copied. For textured objects -- like cup, a pen or, say, a screwdriver -- TopShot essentially takes a photograph that is scanned to a PC as either a PDF, JPG or PNG file. (The images are not reproduced as traditional 3D images, but rather as 2D images like you'd see in a photograph.)
Flat documents can be scanned one page at a time, and we found color document scans to be bright, clear and suffered almost no, noticeable degradation from one generation to the next.
As a printer, The TopShot LaserJet Pro M275 is fine for a desktop printer. "First page out" for monochrome documents ran between 17 and 18 seconds. For color, we timed it at 31 seconds. Both were slightly slower than the best possible output times listed in the product specifications, but not so slow as to make it a dealbreaker. Color prints from Macs or PCs offered no noticeable degradation for most office uses.
And, additionally, HP has built into this MFP a small color console that provides support for printing directly from the Web, either via services like Gmail or Box.Net, or from publications like USA Today -- no PC necessary.
All of this from a multi-function printer that sets up, out of the box, in about 12 minutes -- including integration with a wireless network. Like several other HP printers, The TopShot LaserJet Pro M275 supports wireless printing directly from iOS devices, including iPhones and iPads, that support AirPrint. It's a seamless feature and one that will become more important over time as these devices are more widely deployed on organizations for data capturing or document creation and editing.
(It should be noted this MFP also comes with an Ethernet port for wired connection as well.)
This device is slated to ship on Nov. 16 at a starting list price of $399. Street pricing on toner cartridges can run between $75 and $100 each; it uses black, cyan, yellow and magenta cartridges that provide about 1,000 pages of printing each for color and 1,200 for black.
Among other things, HP has positioned this MFP as a device that's perfect or scanning products or objects so their images can be uploaded to online malls for browsing and sale. But that's a limited way of looking at the device's usefulness.
What makes the TopShot LaserJet Pro M275 so worthy of consideration by SMBs or workgroups is that it adapts to the imaging needs of the moment, rather than requiring users to adapt their imaging needs to whatever functionality it provides. While it's not a "performance" printer, it's not priced like one, either. It is, however, priced lower than the cost of a 64 GB iPhone 4S or an iPad, while supporting printing from those devices.
The bottom line: The TopShot LaserJet Pro M275 is a very cool multi-function printer that's priced aggressively and doesn't get in the way of getting a job done.
Printer-friendly version
Email this CRN article