Printer-friendly version
Email this CRN article
With hardware prices dropping, vendors must find new ways to add value to their products to remain competitive. Display vendors in particular are feeling the crunch, and many are finding innovative ways to stand out amid their competition. Numerous vendors are designing products for specific vertical markets, and solution providers selling to these markets will certainly benefit.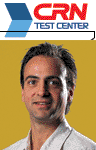 MARC SPIWAK
Technical Editor
Planar, for instance, offers a touch-screen interface on its PT170MU, perfect for VARs and integrators selling into niche markets such as POS or kiosks. Sony sets its SDM-S204/B apart by touting the display as an integral part of any CAD/CAM or graphic arts solutions. ViewSonic's VG910b is ideal for SOHOs and SMBs confined to small office space, as the display is easy to mount on a wall. CRN Test Center engineers reviewed these displays and their integration opportunities.
PLANAR PT170MU
Planar's 17-inch PT170MU has an integrated resistive touch-screen interface, perched atop a solid stand that won't wobble when users touch the screen. The display is ideal for use in niche markets, for example, POS applications, automation control, information kiosks and industrial systems. The unit's integrated stereo speakers also make it ideal for use in these markets. The unit lists at $949, slightly less than the MicroTouch M170 touch screen from 3M, which has a list price of around $1,025.
The PT170MU has a native XGA resolution of 1,280 x 1,024, which is comparable to most 19-inch units. The display measures 16.2 x 16.3 x 8.3 inches and weighs 12.8 pounds. The display requires two connections to a PC, as it plugs into a standard PC video card for its main functionality, while its integrated touch-screen interface plugs into a USB port. Planar manufactures many types of display products, with and without touch-screen capability.
Partner status in Planar's multitier channel program is determined by annual sales, and depending on a partner's level, support elements can include marketing development funds, various training programs and volume incentive rebates. Margins range from 5 percent to 20 percent. All partners qualify for a product evaluation program, bid desk, selected rebate programs and discount offers, sales support, participation in joint sales calls and access to a dedicated reseller Web site. Training is available both in person and over the Web. Online technical support is available 24x7, and telephone support is offered 8 a.m. to 9 p.m. EST Monday through Friday.
SONY SDM-S204/B
Sony's SDM-S204/B flat-panel display has a 20.1-inch screen and a UXGA native resolution of 1,600 x 1,200, giving users more virtual desktop space to work with. With such a fine resolution, this display is ideal for graphic arts and CAD/CAM applications. But even with such a large screen, the SDM-S204/B has a slim bezel and small footprint.
Finished in black, the SDM-S204/B measures 17.6 x 17.4 x 9.25 inches and weighs less than 17 pounds. This is an attractive display, though not quite as flashy as most Sony products. The SDM-S204/B features both digital DVI and analog VGA inputs, along with one-touch brightness and contrast controls. Most flat-panel displays have external power supplies that at the very least add unnecessary clutter to a workspace or desk surface. An internal power supply eliminates desktop clutter and also makes mounting the display on a wall much easier.
Sony's display partner programs are available to all resellers qualified to purchase products from ICG, Ingram Micro and Tech Data. Solution providers in the programs can receive average margins of 14 percent. Other major program benefits include spiffs, demo pricing, volume and government/education pricing discounts, and trade show and sales support. Training is provided upon request. Solution providers have access to a 24x7 technical support line and express exchange options, and can access all product, program, promotion and sales information at Sony's solution provider resource center.
The SDM-S204/B has a list price of about $1,200. Pricing is competitive, especially when compared with similar 20-inch flat-panel displays such as the LCD2080UX from NEC-Mitsubishi, which is priced at around $1,500, and BenQ's FP2081, which costs $1,300.
VIEWSONIC VG910b
ViewSonic's VG910b combines a slim-bezel design with both digital DVI and analog VGA inputs. The unit also includes a pair of built-in 3-watt speakers. With a 25 millisecond response time and 600:1 contrast ratio, this display is perfect for use in corporate or small offices as well as in the home and by gaming enthusiasts. The display has an MSRP of $809, which is pricey for a 19-inch display. Similar displays such as the Samsung SyncMaster 192T cost around $100 less. The VG910b's added speakers, high contrast ratio and fast response time, however, add value to the unit.
The VG910b's built-in power supply can reduce clutter and make wall-mounting simpler. The VG910b has very few controls on the front panel. Instead, most adjustments are made on screen using the mouse to navigate simple menus. The display measures 16.6 x 17.3 x 7.1 inches and weighs 16.5 pounds.
ViewSonic's single-level ViewSonic On Top partner program is open to all solution providers. The main benefits of the program are demo pricing, a dedicated PartnerView Web site, spiffs and other sales incentives, training and special discounts for the public sector. ViewSonic offers online training through its PartnerView Web site as well as on-site training for solution providers. The company also provides toll-free 24x7 support with a dedicated VIP line for solution providers.
CHANNEL PROGRAM SNAPSHOTS
> PLANAR SYSTEMS

COMPANY: Planar Systems
Beaverton, Ore.
(866) 752-6271
www.planar.com
DISTRIBUTORS: ICG, Ingram Micro
TECH RATING:


CHANNEL RATING:

> SONY ELECTRONICS

COMPANY: Sony Electronics
San Diego
(888) 315-SONY
www.sony.com/businesssolutions
DISTRIBUTORS: ICG, Ingram Micro, Tech Data
TECH RATING:


CHANNEL RATING:

> VIEWSONIC VG910B

COMPANY: ViewSonic
Walnut, Calif.
(888) 881-8781
www.viewsonic.com
DISTRIBUTORS: ASI, D&H, ICG, Ingram Micro, Synnex, Tech Data
TECH RATING:


CHANNEL RATING:

Note: Vendors can earn up to five stars for technical merit and five for their channel program. If the average of these two scores is four stars or greater, the product earns CRN Test Center Recommended status.
Printer-friendly version
Email this CRN article