Printer-friendly version
Email this CRN article
In the age of virtualization, servers are becoming the hot topic as companies attempt to save money by consolidating physical resources by employing virtual ones. Lenovo, with its ThinkServer line of low-cost, high-performance rack and tower servers, is attempting to bring virtualization capabilities to the SMB segment.
For testing, the company sent the CRN Test Center a Lenovo ThinkServer RD240, a 2U, two-socket server with a pair of quad-core Xeon E5640 processors running at 2.7 Ghz and loaded with 16 GB of 1333 Mhz DDR3 memory. We'd characterize the unit's Geekbench scores as above average, and its IOmeter performance as exceptional. This capable little box is more than up to the role of virtualization server for small organizations.
With Windows Server 2008 R2 running on 16 GB of 1333 Mhz memory, the RD240 delivered a Geekbench 2.1.13 high score of 12,409, which puts it squarely among the leaders in tests we've performed here at CRN. And its transaction processing and throughput performance, as measured with IOmeter, were also impressive.
At its peak, the RD240 was able to sustain more than 71,600 I/O transactions per second (IOPS) and a sustained a transfer rate of 280 MBps, making it well suited for small-office scenarios such as for file and print services, e-mail, media streaming, virtualization and other office duties.
Next: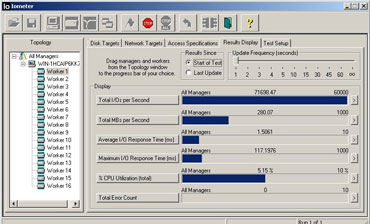 Click image for full-sized view.
What's more, the Lenovo ThinkServer RD240 is a dream to work on. A single captive thumbscrew is all that holds the top cover in place, and once removed reveals a flip-up cooling shroud that streams air across its two large heat sinks and eight DIMM slots. Built around a Tyan Tank B7002LNV motherboard, the system can handle as many as 12 processor cores and 64 GB of ECC memory.
The system's three PCI Express x8 slots are delivered via a riser card, which can sometimes be tricky to work with, particularly in the cramped quarters of a server room that are often poorly lit. But a clever design allows the riser card and its assembly to be removed with a pair of captive thumbscrews. Option cards can be installed and affixed to the assembly in the comfort of anywhere that's not the server room and then re-installed into the server.
One of the slots in the tested system was occupied by an optional LSI MegaRAID SAS 8708ELP controller card, which was controlling the system's three 500-GB SATA drives as a single 1.5-TB RAID 0 array. That board offers battery-backed up cache, and is capable of RAID 0/1/5/6/50 and 60; while the on-board RAID controller logic is limited to RAID 0/1 and 1E. There's room for a total of eight 3.5-inch hard SAS or SATA drives with a maximum supported storage capacity of 16 TB. Space in the hot-swap bays is quite tight; drives don't slide in and out as easily as on most other systems we've seen.
For a street price starting at around $900 with a one-year on-site warranty, the ThinkServer RD240 comes standard with dual Gigabit Ethernet, DVD-RW drive, six external USB 2.0 ports (two front, four rear plus one internal), serial and VGA ports and a 750 watt power supply (plus an optional second hot-swappable unit). Operating system options encompass Linux, VMware and Windows Server, and processor options include numerous Xeon E5500 and E, X and L 5600 models. Average power consumption was about 246 watts when highly active; 138 watts when mostly idle and 26 watts when powered down.
For the small office with a small budget, the Lenovo ThinkServer RD240 an excellent choice for its solid performance, expandability and ease of service. It's a recommended product by the CRN Test Center.
Printer-friendly version
Email this CRN article