Printer-friendly version
Email this CRN article
For many businesses, their IT networks have evolved into a bewildering maze of hardware and connectivity, leaving many administrators at a loss to determine what is residing on the network, who is on the network and what is being performed on the network at any given time. The end result is that due to devices they cannot securely manage, companies are hampering any ROI that could be realized.
Enterprise Collector 2.0 from Insightix recently has become available to VARs looking to address the lack of manageable knowledge surrounding today's networks. Insightix's tool provides network administrators with a complete and unified inventory of all the elements residing on a network, without forcing the rollout of agent-based collection applications. The software does not require any kind of credentials or user data to gather network information. It provides automated network asset discovery and mapping for network administrators regardless of network size.
Built as a Web application, the product leverages Ethernet connectivity to access Layer 2 and higher of the OSI model in order to build a database of connected devices. The devices are then associated via the hardware's unique MAC addresses.
While impressive in description, CRN Test Center engineers found the utility to be no better than many of the other solutions currently available to the channel. The detection capabilities, inventory tracker and alerting features worked as expected, but offered nothing outstanding when compared with competitors. After putting the software through several tests, engineers found that the product delivered on its claims. Pricing starts at $4,000. This will allow for 400 detected elements residing on the network and escalates to $40,000 for unlimited detection.
The installation CD holds a hardened version of Linux and the Enterprise Collector application. CRN engineers installed the application on an HP Proliant server. The collector must be installed on an x86-based server that is running either a Pentium 4 or an Advanced Micro Devices 64-bit processor and has two NIC cards and at least 1 Gbyte of RAM.
To enable successful operations from the collector, the NICs must be configured correctly and should receive an IP address in the monitored IP network.
The installation took the engineers approximately 45 minutes. The system provided a full inventory of both online and offline items in a user-friendly, easy-to-navigate GUI or dashboardin realtime and within an hour.
CRN engineers were able to search for a specific device to determine whether it was connected or not. They also were able to disconnect any non-authorized user on the network through the dashboard.
The newest version includes a feature that incorporates an automatic signature generator, which allows administrators to instantly add signatures of devices along with their capabilities into a database. Insightix's solution also is able to identify hundreds of different operating systems on any given network. The automatic operating system signature mechanism allows administrators to identify other unknown devices having operating systems that match the newly created operating-system signature. This feature will specifically pinpoint who should have access to the network.
The utility works well, but there are many similar solutions in the market available at a much lower price.
The company's channel program is split between two unnamed tiers. Tiers are determined by sales levels, and the company expects its channel partners to sell at least $250,000 per year. Partners are offered second-line support and are expected to maintain a trained staff with experience in IT security and networking.
Insightix requires partners to attend technical training and certification twice a year and offers those services at no cost to the partner. The company did not disclose margin information or detail how VARs can build additional revenue from the product.
What's more, many of the additional elements, ranging from SPIFs to joint marketing support were far from concrete. The company pursues those options on a case-by-case basis.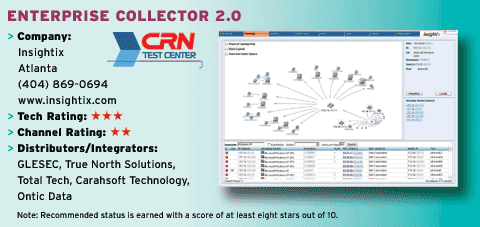 Printer-friendly version
Email this CRN article