Printer-friendly version
Email this CRN article
With netbooks facing tougher competition than ever from smart phones, iPad and notebooks, Samsung is nonetheless putting the pedal to the metal with its NB 30 Pro -- an Intel Atom-based ultra portable that brings some notable features to market.
It's clear with this netbook that Samsung is making a statement that it doesn't want to stay with the pack. From the fit and finish of the device to a number of features normally reserved for business notebooks, the company delivers. Though the price is at the upper range for a netbook (the list price is $519), it makes a good case that its value is on the mark.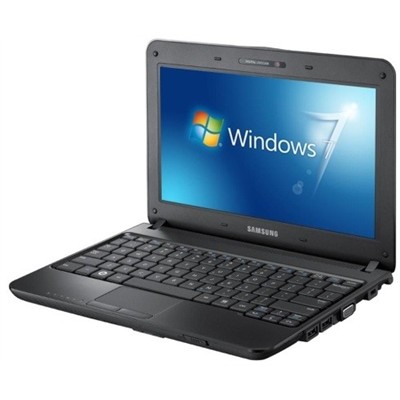 Samsung NB 30 Pro
The unit that came to the CRN Test Center lab was built with an Intel Atom N450 at 1.67 GHz, 2 GB of RAM and a 160-GB hard disk drive with Samsung's anti-shock sensor technology. The NB 40 Pro is also built with an Intel GMA3150 graphics processor, which makes things like video playback quick and smooth. It was also pre-loaded with Microsoft Windows 7 Professional -- an interesting choice for a netbook but a strong choice nonetheless.
Using Primate Labs' Geekbench 2.1 benchmarking software, the unit scored 741 -- a fraction of the performance score of a mainstream notebook but about 75 percent greater than an iPad -- which sells for about the same price.
Here are five features of the NB 30 Pro that we liked:
* The textured finish to the clamshell case makes it comfortable to the touch, easier to hold and resistant to scratching. It also makes the NB 30 Pro stand out from netbooks and notebooks with smooth finishes;
* The audio, HD audio, was clear and crisp -- not the tinny sound we've heard from a number of other netbooks;
* The 10.1-inch WSVGA display was bright, clear and easy to view in a number of different light settings;
* Samsung has gotten thermal engineering just right with this unit, we ran it for several hours on a number of different tasks, including video, and it was still mostly cool to the touch;
* Samsung has included its USB Sleep & Charge technology in the NB 30, just as it has with its business-class notebooks. The benefit of this feature in a netbook is that someone traveling can bring the NB 40, instead of a larger notebook, and still use it to charge a cell phone or MP3 player even when the unit is turned off.
Running the CRN Test Center's standard battery life test for notebooks and netbooks, which includes shutting off all power-saving utilities and running a video from the hard drive continuously until it shuts off, the NB 30 Pro delivered a solid four hours. Samsung says the unit can provide as much as 6.5 hours of battery life and, running the power saving utilities, that's certainly possible.
A couple of nitpicks: We continue to hope that Samsung will ship their netbooks and notebooks without so much pre-loaded, consumery software. It's unnecessary. Additionally, some items, like the on-board Webcam, is a little disappointing in that its quality is grainier and a little more washed out than we get with notebooks at a similar price point. But those are small points and shouldn't count against the overall quality of the NB 30 Pro.
The bottom line: netbooks appear to be an area where notebook makers are trying out innovations, both small innovations and big ones. The first thing you notice out of Samsung's NB 30 Pro is the textured finish. You want to grip it, hold it and use it. You want to carry it around.
Printer-friendly version
Email this CRN article