Printer-friendly version
Email this CRN article
It's hard to imagine that a machine as fast and powerful as a departmental server could be held in one hand and run for hours on battery power. Yet that's the story of the Dell Precision M6600 Mobile Workstation, one of a series of super-fast and powerful mobile workstations from Dell.
More workstation than mobile, the nearly nine-pound unit sent to the CRN Test Center for evaluation was built around Intel's Core i7 2920XM, a 2.5-GHz quad-core powerhouse with 8MB cache running 64-bit Windows 7 Ultimate on 8GB of 1600MHz DDR3 memory (using four slots) and an NVidia Quadro 4000M discrete GPU with 2GB of GDDR5 memory.
Out of the box, it delivered a Geekbench score of 13,959, surpassing many of the high-end servers and workstations we've tested here. And after setting Windows for maximum performance, we were able to squeeze out a top score of 14,021.
We used the 64-bit version of Geekbench 2.2, with the 17.3-inch four-point touch sensitive display set to its maximum resolution of 1920 x 1080. Our test unit was also adorned with dual 256GB SSD SATA 3 hard drives configured as a RAID 0 array. When disabling the discrete graphics controller in favor of Intel's on-chip GPU, its high Geekbench score dropped to a still-respectable 13,851.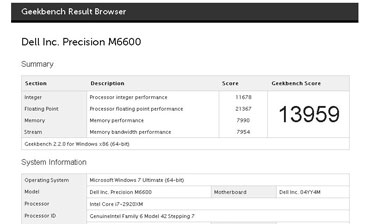 Click image for full-sized view.
With a price tag of $5,689 as tested, who in the world would buy such an animal? According to Mano Gialusis, Dell's product marketing manager for mobile Precision workstations, anyone who needs the performance of a tower workstation to take with them.
"The type of performance is like a true desktop workstation," said Gialusis. "So [it's appropriate for] people working with media and entertainment, scientific applications, oil and gas exploration, medical, CAD/CAM, and any and all verticals with high-power computing needs."
The advantage of having such a powerful portable, he said, can be realized in time saved and jobs completed in the field. "So for example, if you're doing seismic analysis, you can take bigger chunks of the seismic picture, analyze it faster and make decisions on the spot."
The alternative would be to send findings "back to corporate to crunch the numbers." Having such power in the field saves real man-hours, he added, and "really allows people to take their work with them when they need to be mobile. It's easier to carry an 8 pound system than a 70 pound tower and all its peripherals."
Next: Battery Life, Precision Options The M6600's list of standard capabilities and ports is extensive, and rivals that of many desktop systems. Some of the highlights include three video output ports (DisplayPort, HDMI and VGA), two USB 3.0 ports, eSATA and FireWire.
Its four memory slots can accept a maximum of 32GB of 1333MHz DDR3 memory or 16GB of the faster 1600MHz type. In addition to its two internal 2.5-inch drive bays (for up to 1.5TB of spinning storage), a third hard drive can be added via the mini-card slot for another 128GB of SSD. One of the hard drives can be quickly ejected for service or as a security measure. The DVD-RW drive on our tested system was of the slot-load variety.
To live up to the mobile side of its title, a machine with so many juice-draining components had better be equipped with plenty of power efficiency capabilities. Core to the Precision's strategy in this regard is Optimus, which has been available on many of Dell's prior systems. In essence, Optimus watches the graphics performance requirements of applications in real time and shuffles workloads between discrete and on-board GPUs accordingly.
We measured power usage of the Precision M6600 with and without the Optimus feature enabled (it's toggled in the BIOS) and were impressed with results. When under heavy compute load, power draw peaked at 97 watts without Optimus, and just 89 watts with it, a difference of about 10 percent. When idle, power draw was 29 watts without Optimus and 22 watts with, a drop of almost 25 percent.
We also performed our battery test, during which all power saving software is disabled (including Optimus), screen brightness is cranked to the maximum and a digital video file is continuously played until a fully-charged battery is completely drained. The M6600's nine-cell Lithium Ion battery played Paramount's 48 Hours for two hours and 29 minutes.
Dell offers several choices of discrete graphics controllers from NVidia and AMD for the M6600 with myriad capabilities. For example, with the AMD FirePro M8900 Mobility Pro option, the M6600 can control as many as four external monitors at the same time, or five when a docking station is present. Other models in Dell's Mobile Workstation offer options for 15.6-inch screens (all with white-LED back lights) with or without touch sensitivity (and a pressure sensitive stylus).
For mobile users that absolutely, positively have to have all the power and performance of a high-end desktop workstation in a laptop, there are few machines as capable as the Dell Precision M6600 Mobile Workstation, and coupled with a three-year warranty, the M6600 is a recommended product by the CRN Test Center. Pricing starts at $2,218.
Dell also plans to modify the Precision channel program. Glen Brown, Dell's partner direct marketing manager for the Precision line, said Dell will be moving to a model similar to what's now in place for servers in terms of pricing and teiring. "We have target goals to reach certain partners, and we think two tiers will be a good way to do that," he said. Partners had previously been at one level. The bulk of the program will be in place by early 2012, he said.
Printer-friendly version
Email this CRN article