Printer-friendly version
Email this CRN article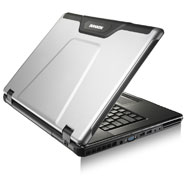 GammaTech DuraBook S15C
Laptop computers have a tendency to get pretty beat up. In May, the CRN Test Center reviewed the DuraBook U12C, a rugged notebook from GammaTech Computer Corp. that withstood everything we threw at it.
With a list price of $1,921-- about half that of a comparably equipped Panasonic ToughBook -- that sturdy DuraBook is likely to outlast conventional laptops even if they're not dropped. But while such machines might look at home on battlefields, construction sites or the corner garage, in the board room they stick out like a Hummer at a Maserati convention.
With the DuraBook S15C HD, GammaTech breaks the "bulky but durable" stereotype without breaking the bank. The $1,535 unit delivers an Intel Core i7 2.8GHz dual-core (2640M) processor, 4 GB of two-channel memory, 15.6-inch 1080p screen and a 60-GB solid-state drive, all in a magnesium allow case that looks like most any other laptop. And while it's no Maserati in terms of speed, GammaTech's latest DuraBook offers plenty to write home about.
Like the cereal that's good for kids without them knowing it, the S15C is loaded with hidden benefits. The screen and hard drive are mounted with an anti-shock design to protect them from drops, shock and vibration according to the U.S. Military Standard 810G method 514.6. The keyboard, touchpad and switches are spill-proof, and the unit's internal design prevents spillage from reaching critical components. Security features include TPM 1.2 encryption, BIOS-level administrator and boot passwords, a Smart Card reader and Kensington lock port.
The handsome black and silver magnesium alloy case is claimed to be 20 times stronger than ABS plastic, and is said to withstand 26 drops while closed from a height of 32 inches (the height of an average desk) onto plywood over concrete. We dropped the unit three times with no apparent damage, although the snap-lid did seem harder to open afterward. Curiously, the unit woke from sleep on its own each time it was dropped.
Next: Score And Tour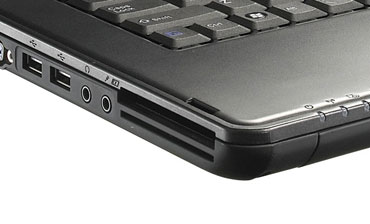 On GammaTech's DuraBook S15C, most-used ports and slots are conveniently located on the unit's front left corner.
Initially we were somewhat disappointed with this DuraBook's benchmark performance; it managed a high on Geekbench 2.2 of just 2350. However, Windows alerted us to some pending updates, after which the unit performed much better, turning in a respectable 5444.
Taking a tour around the DuraBook S15C HD, on the left edge from front to rear we find a Type II Express Card 34/54 slot, below which is the Smart Card slot. Moving rearward are the microphone and headphone jacks, a pair of USB 2.0 ports, VGA output, power input and a large exhaust vent. After about 2 hours of continuous laptop use, temperatures at the vent were around 96 degrees. The hottest area of the unit was on the bottom panel near the exhaust vent, which measured 97 degrees.
The front-most port on the right-hand side is a four-circuit FireWire port, followed by RS-232, a third USB 2.0 port, optical disk tray and Gbit Ethernet and modem ports. These latter ports are covered by a rubber plug, the only ports so bestowed. The only port to find itself in the unit's rear is the Kensington lock port. On the front is a SIM card slot (secured with a screw) and 4-in-1 media card reader for MS, MS Pro, SD and MMC formats.
The DuraBook S15C measures 14.5 x 11 x 1.5 inches and weighs six pounds, 12 ounces with the 9-cell battery, and eight pounds with the AC adapter, which draws around 40 watts. Stereo speakers are minimal but adequate for spoken media and light sound. The optical disc drive tray has a lock to prevent damage from accidental opening. Options include Bluetooth 2.1, a 3.1 megapixel webcam, (lighter) 6-cell Lithium Ion battery, and Core i5 processor. Maximum system memory is 8GB. At 1.5 x 2.75 inches, the trackpad is smaller than we'd like, but it was responsive and accurate to the touch. We like the lighted airplane switch and power switch; the latter flashes when the unit is asleep.
Gammatech's DuraBook S15C is as solid as it is good looking, and we recommend it not only for harsh work environments, but also for the mobile professional, whose usage scenarios are always putting computing resources at risk.
Printer-friendly version
Email this CRN article