Printer-friendly version
Email this CRN article


There are two kinds of thought workers these days: those who have a second monitor and those who wish they had one. For the latter, connectivity products developer StarTech offers a pair of low-cost, SuperSpeed USB 3.0 devices that don't require an expansion slot or a trip inside the computer's cabinet.
With the USB 3.0 to HDMI External Video Card Multi Monitor Adapter and the USB 3.0 to VGA External Video Card Multi Monitor Adapter, StarTech not only provides a simple solution to a complex problem, but it keeps intact its reputation for creating long-named products.
(In March, 2011, we told you about the KVM Console to USB 2.0 Portable Laptop Crash Cart Adapter, an ingenius device that turns any Linux, Mac OS X or Windows laptop into a monitor, mouse and keyboard for diagnosing ailing servers in the data center. The device gained honorable mention in the prior year's CRN Tech Innovator awards.)
StarTech sent the CRN Test Center one each of the HDMI and VGA models for testing, and aside from a few initial hiccups when switching between video modes on our test laptop, both performed flawlessly. Driver for the Windows-only devices are provided on a CD, but installation was further simplified by a quick driver look-up on StarTech download Web site, which the company recommends in its instructions to ensure the latest.
The driver is installed before plugging in the device. After a restart, the system sees the USB device as a monitor, even when none is connected. Aside from its obvious utility for adding a second monitor for desktop and laptop users, another application might be for accessing rack-mount servers than don't offer a front-panel monitor port.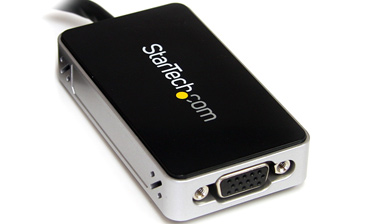 As for video performance, both devices were quite responsive when connected at their maximum resolution to a so-called SuperSpeed USB 3.0- port, which offers a transfer rate of nearly 5GB/s. The VGA edition can display up to 2048 x 1152 pixels. The HDMI version, which includes a DVI adapter, can display up to 1920 x 1080 pixels. We were able to play an AVI movie through the USB 3.0 port on a laptop with no choppiness, artifacts or banding. Unplugging it from the USB 3.0 port caused the external monitor to black out, of course, but the laptop's main screen just blinked momentarily and was otherwise uneffected. With the movie still playing, we plugged the StarTech adapter into a USB 2.0 port, and after about 30 seconds it reappeared, but the lesser bandwidth of the USB 2.0 port was apparent.
Listing at $117.99 and $109.99 respectively, the USB 3.0 to HDMI External Video Card Multi Monitor Adapter and the USB 3.0 to VGA External Video Card Multi Monitor Adapter including a two-year warranty are solid and well performing solutions that the CRN Test Center recommends. Distributors include ASI, Dell Harmony, Ingram Micro, Tech Data and Synnex.
Printer-friendly version
Email this CRN article