Printer-friendly version
Email this CRN article
Pages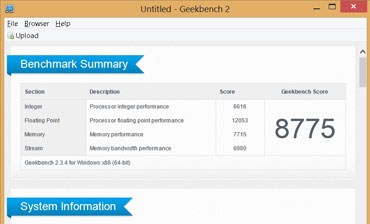 Click image for full-sized view.
Dell's latest thin-and-light also scored well in the look-and-feel. Like its XPS brethren, the XPS 12 is constructed of machined aluminum, magnesium-alloy and carbon fiber materials, giving the case a sturdy feeling that's resistant to fingerprints. A rubbery coating inside and out makes it easy to hold in one hand whether it is open or closed, and the bottom remains cool to the touch (and to the lap) at all times. Wide vents on the underside help to keep air flowing. At its warmest on the bottom surface, we measured the unit at 102 degrees Fahrenheit.
At nearly three and a half pounds, the XPS 12 is still a laptop after all, and workers would grow weary if holding it in one hand for too long. A stiff hinge allows the display to rest at any angle, and when in tablet mode, it also allows the XPS 12 to stand up like a pup tent. The versatile unit also permits the screen to face outward while the operator controls the keyboard, but requires manual screen orientation. A function (Fn) key could be dedicated to this purpose.
Starting with a fully charged battery, we put the XPS 12 in airplane mode and configured Dell's power-saving feature to maximum. The only variation was to manually override the screen to its brightest setting. We then loaded several 1,080p HD videos to the SSD and watched them in full-screen mode mostly through headphones in a continuous loop until the battery was completely drained. Windows warned us at when remaining battery power was 10 percent and again at 7 percent. The XPS 12 delivered 4 hours and 45 minutes of continuous use on a single charge.
During playback we listened for a few minutes to the speakers, which delivered deep, rich sound that was not tinny and was totally free of distortion. Its four-inch wide touchpad is bigger than most, and although we had trouble with it initially, new drivers resolved all problems. The unit performs a cold boot in about 8 seconds. Ports include two USB 3.0 and a mini-DisplayPort. There are dedicated hardware controls for volume and power, and open and closed LEDs indicate charge and sleep status.
With a starting price of $1,199, the XPS 12 is well outside the sub-$1,000-price guidelines set forth by Intel for Ultrabooks. Still, this versatile unit has returned the wow to portables, at least for now; it even communicates while in sleep mode thanks to support for Intel's Smart Connect. For the mobile pro who's looking for the latest in a super-cool Windows 8 device that's both laptop and tablet, the CRN Test Center recommends the Dell XPS 12 Convertible Touch Ultrabook.
PUBLISHED OCT. 26, 2012
Pages
Printer-friendly version
Email this CRN article