Printer-friendly version
Email this CRN article
Today, small businesses want it all—from broadband connectivity, security and remote access to high-speed networking, failover capabilities and content control. Those needs are quickly driving SMBs beyond the capabilities of the typical SOHO broadband router and into the realm of branch-office solutions.
VARs can meet the new connectivity demands of SMBs with the ProSafe Gigabit VPN Firewall 25 FVS124G from Netgear, Santa Clara, Calif. The diminutive device offers two WAN ports, four switched Gigabit Ethernet ports, an SPI firewall, advanced routing features and 25-user VPN server.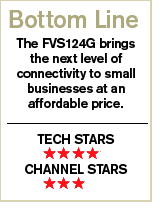 For those looking for failover or load-balancing capabilities, the dual WAN ports are a godsend. Those 10/100 autosensing RJ45 Ethernet ports can be configured to route independently to two different broadband connections or be configured for failover, which moves traffic from the primary to secondary connection if the primary connection fails. The ports also can be configured to aggregate bandwidth via load balancing. That option allows a typical SMB to double its broadband throughput by adding a second connection.
Increased throughput means very little if the network can't use it. Here, the FVS124G eliminates LAN bottlenecks by integrating a four-port Gigabit Ethernet switch. Gigabit Ethernet provides the backbone for high-speed SMB servers, NAS devices, VoIP and video offerings. The Gigabit capability also makes the unit ideal for server-to-NAS backup solutions or for configurations involving multiple servers. And VARs can daisy-chain additional Gigabit switches off the FVS124G to build a multi-PC high-speed LAN.
Other notable features include Dynamic DNS (DDNS) support, full logging, port triggering, port redirection, access scheduling by group, DHCP server, SPI firewall, quality of service (QoS) and dynamic routing.
DDNS offers users a way to deal with non-static IP addresses, usually assigned by broadband providers. The DDNS service provides automatic reassignment of the IP address to a URL, such as "mynetwork.com," which is critical for remote access to an environment where public IP addresses change frequently.

The integrated VPN covers the basics quite well. Netgear offers a client application for VPN access, and the unit can handle as many as 25 concurrent VPN connections.
The unit is loaded with security features, including denial-of-service protection and site blocking. Administrators can block URLs and Web pages by entering keywords, limit access to services and ports based on a user's group membership, and use the scheduling option to allow access to sites only during set times or days. Administrators also can choose to integrate the device with Trend Micro's antivirus products. If a Trend Micro security server is set up at the site, the FVS124G can interact with that server to institute antivirus and other security features at the gateway, preventing malware from being delivered to the desktop.
The unit features logging and reporting options. Logs can be customized to include a variety of access triggers and outgoing events. Logs can be e-mailed automatically to the administrator or rolled up into network logs. Administrators can implement SNMP management to further monitor the device.
The FVS124G includes traffic management controls, where administrators can define bandwidth allowed per group per schedule. When traffic exceeds set limits, the unit can block the group or just log the event.
The unit offers some QoS controls: administrators can assign ports and protocols to particular QoS levels, and the device will then prioritize those protocols based on the level assigned. That proves to be handy for giving VoIP traffic priority over other less important protocols.
All things considered, the FVS124G brings the next level of connectivity to small businesses at an affordable price, with plenty of room for adding capabilities.
Printer-friendly version
Email this CRN article