Printer-friendly version
Email this CRN article
Maximizing throughput has been the mantra of the data center since servers have been plugged into switches. New applications and services, such as on-demand video and VoIP, along with SANs, have stretched infrastructure to its limits. But there is help on the horizon, in the form of 10-Gigabit Ethernet.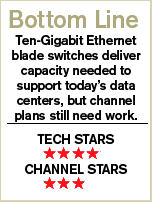 Ten-Gigabit Ethernet technology could not have arrived on the scene at a better time, since it aims to put the speed back into SANs and the power back into network applications. Blade Network Technologies, a company formed about a year ago when Nortel Networks sold off its blade server switch business unit, has entered the fray with its 10Gb Uplink Ethernet Switch Module, a component that brings Layer 2/3 switching into IBM blade housings. The company says a Hewlett-Packard solution is coming soon. The 10-Gigabit blade switches are based on the Broadcom chipset and use a version of the Nortel AlteonOS software.
Third-party performance testing by the Tolly Group was performed on Blade Network Technologies' Nortel 10Gb Uplink Ethernet Switch Module and Nortel 10Gb Ethernet Switch Module installed in an IBM BladeCenter. The results showed impressive performance for the switch modules as well as a favorable price/performance ratio. Both of these positive results can be traced back to the integration of the 10-Gigabit modules into a server blade, as opposed to operating in a separate, stand-alone chassis. The former style of configuration proves to be much more efficient, especially when high-performance server blades are housed in the same blade chassis. Performance testing showed that the Nortel-based modules attained full line speeds and achieved 100 percent zero-loss throughput (frame sizes (64 to 1,518 bytes). Store and forward latency ranged from 1.86 to 1.93 microseconds (1/1000000 seconds) for Layer 2 operations. Tolly also showed that competing chassis-based 10-Gigabit solutions could not match those speeds.
Beyond performance, there are several advantages to integrating 10-Gigabit modules directly into blade server housings. By consolidating cluster computing with infrastructure technology and iSCSI SAN solutions into a blade-based environment, data centers gain the advantages associated with a small footprint and an easily managed chassis-based solution. In short, blade technology cuts management overhead, reduces rack space needed and drops heat and power consumption while increasing total performance.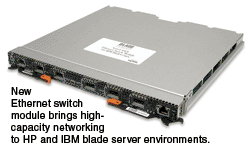 Those benefits are a strong incentive to move data centers over to blade-style deployments and reap savings in management and facilities overhead while guaranteeing high performance. That makes 10-Gigabit blade solutions a service and revenue generator on many fronts. If a data center needs 10-Gigabit performance, then it only makes sense to deploy the technology with a blade infrastructure to maximize performance and ROI. The initial per-port cost savings can be used to offset the costs associated with switching to blade technology. Tolly Group highlighted those potential savings by comparing Blade Network Technologies' products to a Cisco Catalyst 6509, a comparable chassis-based switch. The research group reported that the price per Gbps for a Nortel Layer 2/3 10Gb Uplink Ethernet Switch Module was $55.54, while the Cisco product came in at $375 for each Gpbs.
While this is not an apples-to-apples price comparison (there are additional costs associated with the IBM BladeCenter not accounted for), the numbers still give solution providers a strong illustration of the savings that could be realized for sites that already employ IBM BladeCenters. For sites not using blade technology, the reduced costs make a strong argument for the transition to data center blades as part of a hardware refresh cycle.
While 10-Gigabit Ethernet networking offers substantial profits for VARs and increased speed for data centers, the real services potential comes from the new capabilities offered by the high-speed networking. For example, 10-Gigabit Ethernet makes business-continuity solutions more palatable, as the increased speed reduces data replication times. What's more, the increased speeds provide the oomph needed to move large buckets of data across both SAN and NAS solutions. Data backup products are also greatly enhanced by the increase in speed, perhaps reducing time needed for disk-to-SAN backups by a factor of 10 or more.
Very few VARs (if any) are looking to make a living by just selling 10-Gigabit infrastructure equipment, and Blade Network Technologies has come to that same conclusion. The company has taken the "value-add" approach with its 10-Gigabit equipment by selling its products as part of a solution and not as stand-alone products. That means VARs will have to partner with additional vendors to build complete 10-Gigabit infrastructures and then hopefully be able to go beyond the simple hardware sale.
That theory is evident in how the vendor approaches the channel. The company only offers its products through HP and IBM under those vendors' channel programs, perhaps smoothing the relationship between a VAR and the primary technology vendor to enable the VAR to pursue additional add-ons for revenue. Blade Network Technologies also ensures that HP and IBM, which in this case act more like distributors, sell through authorized partners and offer proper channel support.
VARs looking to enter the 10-Gigabit market will need to demonstrate a strong understanding of Ethernet technology. They also should be able to troubleshoot integration and performance problems. That means installers will need to be comfortable with network management applications and network sniffing equipment. VARs can turn to HP and IBM for education and support, as they are well equipped to help partners deal with the intricacies of the products.
Warranty and additional support are available directly from the company, but VARs will be better served by dealing with the primary vendors instead. In short, there are very few barriers to success in building blade-based infrastructure solutions by partnering with the primary vendor and the manufacturer.
Any way you slice it, 10-Gigabit Ethernet is rapidly becoming the high-speed networking solution of choice and can only grow in the enterprise. As prices drop and complexity is reduced, 10-Gigabit will make inroads into smaller businesses across the globe.
Printer-friendly version
Email this CRN article