Printer-friendly version
Email this CRN article

Mention the word "wireless" to business managers and visions of "access anywhere" pop into their heads. Mention the same word to network administrators and security breaches come to mind.
VARs will find that offering both wireless solutions and associated security technologies can fuel security services sales and build on-going revenue opportunities.
So how does a VAR build a secure wireless practice? The simplest answer is to start with an integrated security appliance that offers wireless access capabilities, such as the SonicWall TZ 190 Wireless, which combines a router, firewall, wireless access point and VPN into a single unit that also offers broadband 3G wireless connectivity. While initially designed for branch offices, the product's robust feature set and customizable services also make it ideal for the small and midsize enterprise market. What's more, by combining wireless broadband with Wi-Fi access, the product can become an instant secure hot spot for businesses with locations off the wired Internet grid.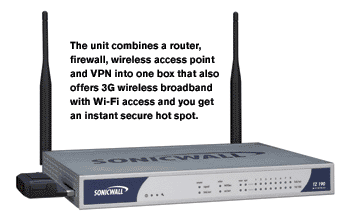 VARs will appreciate the extensive list of options and security services available with the TZ 190 Wireless. Out of the box, SonicWall offers a deep packet inspection firewall (with SPI), VPN capabilities, WAN failover support, policy-based NAT and port-level security. The unit also includes gateway antivirus, antispyware and intrusion-prevention services with one year of updates. Channel partners can sell additional years of support, as well as additional security services that integrate into the unit.
Solution providers will find initial setup and configuration of the unit straightforward, thanks in part to SonicWall's configuration wizards and the included documentation. As VARs add features such as integrated authentication or content filtering, setup does become more complex and requires a professional's touch, which is good news for partners.
Next: The Bottom LineThe company offers several security subscription bundles, all of which fall under SonicWall's TotalSecure banner. The bundles differ by number of years of coverage, level of services and security capabilities, but all allow the unit to act as a Unified Threat Management (UTM) device, an important consideration since the unit offers integrated 802.11b/g wireless client access.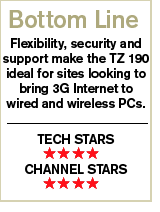 The device's 802.11b/g access point is directly integrated into the security services of the unit, allowing extensive flexibility when deploying the unit in a shared hot spot and secure access solution. Administrators can configure the access point to allow general access to the Internet, yet isolate that traffic from the internal network. That allows the unit to serve two purposes: hot spot access for guests and secure internal access for authorized users.
The ability to meld private and public communications into a single device makes the unit ideal for office environments that offer guest access to visitors, yet still provides secure wireless capabilities for employees or other authorized users. Businesses with waiting rooms, such as medical offices, accounting firms and law offices, come to mind as ideal verticals to benefit the most from the TZ 190 Wireless's blend of features. One interesting implementation is to offer a secure mobile hot spot, which would be applicable for outdoor events, conferences and concerts. If the event location offers 3G cellular coverage and AC power, then an instant hot spot is not a problem.
The unit also offers eight 10/100 Ethernet ports, allowing local wired connectivity to servers and PCs, although with Gigabit Ethernet becoming commonplace, SonicWall should consider offering 10/100/1000 ports on the unit. Three additional RJ-45 connections are included on the unit for WAN connection, console connection and an option port that can be configured for DMZ or failover.
Simply put, the TZ 190 Wireless opens up new opportunities for VARs looking to introduce secure networking to both small businesses and temporary sites.
Printer-friendly version
Email this CRN article