Printer-friendly version
Email this CRN article
The larger a network becomes, the harder it is to manage. While newer operating systems incorporate features that make network management easier, there are numerous tools that can streamline the process even further. CRN Test Center engineers tested two products designed to give network administrators the upper hand when managing large networks: NetIQ's Security Administration Suite 5.0 and Sunbelt Software's ServerVision.
NETIQ SECURITY ADMINISTRATION SUITE 5.0
Operating systems use directory services to store information about software applications, files, printers and employees. Microsoft's Windows Active Directory integrates management tasks such as automatic software installation and increases security and system interoperability. Even with Active Directory built into the operating system, however, a lot of overhead is still involved in network management.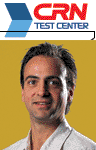 MARC SPIWAK
Technical Editor
Printer-friendly version
Email this CRN article