Printer-friendly version
Email this CRN article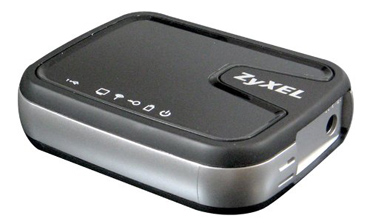 The Zyxel MWR211 Mobile Wireless Router
It's easy to think that some of the people suffering in Japan -- after meeting their primary sustenance needs -- might have been happy to have a device like the Zyxel MWR211 Mobile Wireless Router. This battery-operated 802.11n access device clearly might have been useful to survivors of that country's devastating earthquake and tsunami for gathering news and aiding in the search for loved ones.
Designed primarily for hard-core business travellers, vacationers and consumers for whom Internet access is simply not negotiable, the MWR211 lists for $115, and can be found online for between $75 and $80. It includes an Ethernet cable, five-volt AC/DV adapter and documentation CD. About the size of a pack of cigarettes, the unit itself has a built-in Li-Ion battery that's intended to keep the router routing for two hours in the event of power failure. But our tests nearly doubled that; the internal battery kept a 3G connection open three hours and fifty minutes. However, this test involved a single wired client and no WiFi nodes; battery time would likely have been shorter if WiFi clients were connected.
Setting up the MWR211 could not have been easier. Once the router was out of the box and fully charged, we connected it to a laptop via Ethernet cable, plugged a 3G USB dongle into the unit's USB port and hit the power switch. After a moment of negotiating, the router was connected to the Internet via 3G modem and providing Internet access to the laptop. With this type of Internet connection, the router's Ethernet port and 2.4GHz WiFi radio both can be used to provide Internet access to computers--either through physical network connections or with WiFi. Hotels looking to charge for each IP address might not like this feature, multi-device power users and their laptop-toting coworkers will love it.
Of course, the most common application for the MWR211 will likely be as a DSL or cable router, using its Ethernet port to provide a wired connection to the Internet. In this case, only WiFi devices would be able to connect through the router and access the Internet, but a 3G modem could be added, and used as a backup means of connecting to the Internet. In terms of 3G connections, Zyxel claims that the MWR211 is "carrier agnostic," and provides an extensive list of compatible modems on its web sites.
With a connection established, our next order of business was to test of the speed of the 3G connection. The website speedtest.net reported a download rate of 1.12 Mbps and an upload speed of 0.29 Mbps. And speakeasy.net reported 0.88 for downloads and 0.27 Mbps for uploads. However, in the real world, Internet Explorer reported a transfer rate when downloading a file of 52.8 kbps, a speed more typical of 3G networks.
To keep the router active while we were draining the battery, we went to hulu.com and continuously streamed videos until the battery died. By streaming media, we were also able to evaluate the smoothness of the connection by looking for jumpy video and audio. There were neither.
But the fun doesn't stop there. The MWR211 is fully acronym compliant, with support for WEP, WPA, WPA2 and WPS, as well as a built-in SPI firewall and an anti-DoS shield for denial of service prevention. All this and more is configurable on the unit's browser-based software, including port forwarding, NAT and VPN support, MAC filtering, and some QoS features and control over how much bandwidth you want to share. The embedded software also provides device status, connection-time logs and user programmable alerts.
The Zyxel MWR211 provided a seamless experience from set up through connection and usage, and with its powerful enterprise-like routing features, the CRN Test Center recommends this product for applications that require an uninterruptible intenet access device that's also mobile and compact and can keep working literally on the go.
Printer-friendly version
Email this CRN article