Printer-friendly version
Email this CRN article
Gone are the days when programming a Layer 3 Ethernet switch required special training or certifications. The Cisco SG300-10MP 10-port Gigabit PoE Managed Switch is easy to administer from start to finish, and even provides useful feedback about its status on the network the moment it's powered up.
Designed for any size organization, the 300 Series comprises models from eight-port 100-Mbit units to its high-end 50-port Gigabit enterprise devices. For testing, Cisco sent the CRN Test Center a 10-port unit, with eight powered Gigabit ports for copper, and another two non-powered ports than can handle copper or optical connections with optional GBIC adapters.
The handsome 1U device measures 11 inches wide, and includes brackets for rack mounting and rubber feet for shelf locations. A serial port permits out-of-band command-line administration, when necessary.
Not that Cisco intends its target users -- typical office personnel -- to be whipping out those old DB-9 cables any time soon. With software this easy, there's certainly little reason to do so. Cisco's 300 Series managed switches are designed to be maintained by the end-user, people that are usually more interested in processing orders from their small business's Web site than in mucking around with IT technologies and protocols.
Next: The 'Getting Started' Screen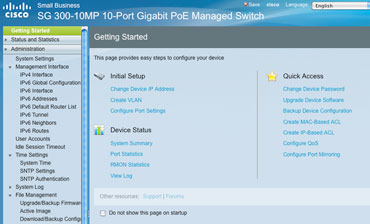 Click image for full-sized view.


To simplify switch operations for these reluctant IT pros, Cisco's embedded software presents a "Getting Started" screen by default, grouping routine start-up and maintenance tasks in a single place at every log in. If choosing not to show this screen, the system instead defaults to the System Summary, which is among the first places a troubleshooting service tech will visit. The page provides an image of the target switch with near real-time information about its health and status, with hot-links to each of the fixed-purpose and communication option ports. Clicking on an on-screen port permits editing of that port's settings in a new browser window.
Configuring the ports and other settings of Cisco's 300 Series switches is fairly fool-proof, thanks to some clever HTML coding. Available settings are bold and black, and unavailable ones are a ghostly grey. It's also possible to configure and apply settings to multiple ports from this single screen, and to label individual ports with their purpose, connection or other descriptive text.
For those in the know, the embedded software provides granular access to many of the port settings of 300 Series switches, including output of the Power Over Ethernet injected into each of this unit's eight PoE ports, and the ability to assign power priorities. By default, power supplied is 15,400 milliwatts, which is the maximum wattage per-port allowed by the PoE specification. This screen also displays information invaluable when troubleshooting a PoE device, such as power consumption and power overloads.
But enough of all that advanced stuff, most of which will never be touched anyway. Cisco further simplifies the setup process with a free utility called FindIT, which seeks and discovers any compatible Cisco device connected to same network as the Windows machine that runs it, and provides IP information for browsing to the log in screen. Series 300 switches also are discoverable with Bonjour, which is available as a stand-alone Java app, or as an add-on for Firefox.
But before you go there, first check the switch's power LED. If it's flashing, then the device didn't find an IP address on the network and is using its factory default IP address (which is found in the manual along with log in creds).
As tested, the Cisco SG300-10MP 10-port Gigabit PoE Managed Switch lists for $314, and for the small office or department, the CRN Test Center recommends Cisco every time.
Printer-friendly version
Email this CRN article