Printer-friendly version
Email this CRN article
Less than five years ago, solution providers would have been hard-pressed to make a profit selling telephony products. However, the emergence of VoIP technology is offering solution providers newfound opportunities for technology assessments, hardware and software sales, installation, support, training and add-on services. These opportunities extend to businesses of all sizes, from SOHOs and SMBs to larger enterprises.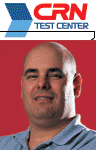 FRANK J. OHLHORST
Technology Editor
While some solution providers have quickly gotten up to speed at selling hardware and software VoIP solutions, many more are just beginning to understand the profits and ongoing revenue that can flow from the service end of the equation. To help solution providers target these opportunities, WorldWide Telco launched its wIPphone product line in early June, offering solution providers opportunities for service revenue in the form of resalable local, long distance and international calling plans for the burgeoning VoIP market. Solution providers can now profit from the mere sound of dial tone.
The hardware and software needed for the wIPphone service varies depending on the installation scenario. Solution providers can choose from a range of devices, including multiline VoIP-to-WAN connectors and standalone all-in-one VoIP phones. These hardware devices also can work as a PBX for a small office.
The company also offers a free software-based softphone that can be downloaded to a PC and that runs within Windows. The softphone uses an external headset that plugs into the PC, and is ideal for frequent travelers, allowing them to make phone calls from the road using their notebook computers.
The underlying technology is based on WorldWide Telco's experience as an international private-line carrier and its long-term services and arrangements with international phone carriers built upon its decades of experience with switching networks.
While the hardware line is worth noting, the service offerings are of the most interest and offer the greatest revenue opportunities to solution providers. WorldWide Telco offers a relatively painless entry for solution providers into the VoIP market and provides plenty of incentives and assistance to help solution providers get started.
The vendor offers partners four levels of involvement: Basic, Silver, Platinum and Affiliate. The Basic level offers a 20 percent commission on initial sales and the option to sell prepaid recharge cards for adding minutes to an account. The Basic level is a good opportunity for solution providers selling to the phone-card or retail markets.
The Silver level offers discounts on hardware purchases, higher-percentage commissions, technical training and certification. Partners at this level also have direct access to second-level support, access to a basic set of customer management tools and
customizable rate plans.
Platinum partners can receive hardware at cost and profit-sharing based on a customer's ongoing usage, along with monthly and one-time fees. Platinum partners also have access to personalized Web site support and development, co-marketing dollars for approved campaigns, customized rate plans, technical training and certification, direct access to third-level support and a complete set of Web-based customer-management tools.
The Affiliate level program is designed for ISPs and Web portal providers. Affiliate revenue is derived from banner ad revenues and click-through purchases.
Deploying and using WorldWide Telco's products is quite easy. The softphone's interface is simple to use, and includes tuning wizards to maximize audio quality.
Solution providers will find the Web-based management tools equally intuitive. Access to the service is gained through a user name and password combination. The reporting tools available to both solution providers and end users offer ample information for tracking usage, demonstrating savings and calculating ROI.
Adding time to a customer's VoIP account is as simple as purchasing minutes using a credit card or phone card, and the purchasing process can be almost completely automated, allowing Platinum-level partners to profit from every transaction with no overhead on their part.
CRN Test Center engineers would like to see a wireless headset, Web-based voice mail and Webcam support included in the company's hardware offerings to fully round out its lineup. Overall, however, WorldWide Telco hits a home run with its channel focus and ease of use for the growing VoIP market, providing a solid solution for integrators wishing to enter the market, as well as opportunity to increase profits and revenues.
CHANNEL PROGRAM SNAPSHOTS
> WIPPHONE

COMPANY: WorldWide Telco
New York, N.Y.
(888) 268-7600
www.wipphone.com
DISTRIBUTORS: Direct from vendor
TECH RATING:


CHANNEL RATING:

Note: Vendors can earn up to five stars for technical merit and five for their channel program. If the average of these two scores is four stars or greater, the product earns CRN Test Center Recommended status.
Printer-friendly version
Email this CRN article