Printer-friendly version
Email this CRN article
As more users leverage rich, Web-based content, enterprise networks quickly push the limits of their bandwidth. What's more, many enterprises are turning to noncentralized networking technologies to improve disaster recovery and to provide branch-office support. These issues translate to bandwidth bottlenecks, which can hinder the performance and decrease the effectiveness of geographically dispersed networks.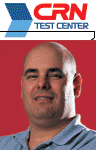 FRANK J. OHLHORST
Technology Editor
FatPipe addresses these issues with its Warp product line of load-balancing, router-clustering appliances. The device sits between a company's LAN and its Internet connection, and includes two or more connections to the company's ISP. Warp aggregates network traffic to improve connection speeds while also performing failover duties. If one Internet connection goes down, Warp will instantly move all traffic over to an alternate connection.
Warp is sold based on a business' bandwidth requirements. The entry-level model offers 50 Mbps of throughput with an MSRP of $14,500. Solution providers can expect margins ranging from 25 percent to 33 percent based on their level of placement in FatPipe's two-tier channel program.
Partners are designated as having either Silver or Gold VAR status, determined by revenue. Silver VARs must have $9,500 in sales each month for three consecutive months to qualify. Silver VARs receive an additional 2.5 percent discount on Warp products, which is applied to co-op marketing efforts. Gold VARs must have $19,000 in sales each month for three consecutive months and earn a 5 percent discount for co-op efforts on Warp products.
VARs and end users share the same technical support phone number, which provides support from 7 a.m. to 7 p.m. Mountain time, Monday through Friday. Customers can purchase additional support, including 24x7 support and extended express service. Registered partners have access to a protected Web site with marketing materials.
Warp is designed to perform a limited number of tasks, specializing in bandwidth aggregation and failover support. This is in stark contrast to other similar appliances on the market that combine several functions. However, FatPipe's single-mindedness offers many advantages, including focused and specialized technical support.
Solution providers will find the unit quite easy to deploy and manage. Warp's browser-based console is intuitive and speeds access to most common functions. The console is protected by an encrypted Java-based session, which can thwart malicious attacks. The encryption is an important element of the appliance's security, since it is usually placed outside of the protection of a corporate firewall.
Administrators can quickly define the methodology used for aggregation and flow control. Choices such as Round Robin, Response Time, Fastest Route and On Failure are offered to maximize either speed or failover capabilities. By selecting Round Robin, all outbound traffic is handled on a per-IP session basis and distributed equally among each of the unit's interfaces. This method is preferable for sites using three connections of equal speed through a single ISP. The Response Time option gauges which interface offers the fastest response and moves outbound traffic to that interface. This setting is preferable for businesses using different ISPs and connections of varying speed.
Fastest Route measures the speed to a destination and uses the interface that offers the quickest destination speed. This option can help reroute network traffic around Internet congestion. The On Failure option only routes traffic to another interface if the primary connection fails. Sites that use a primary fast link and a slower, low-cost secondary link for failover will appreciate this option. For inbound traffic load balancing, the Warp unit acts as an authoritative DNS server and uses Berkeley Internet Name Domain (BIND) functionality to determine which interface offers the fastest inbound connection.
Administrators will appreciate the integrated traffic monitoring capability, which is accessed through the management console. Traffic flow can be viewed in realtime, and administrators can quickly identify which interfaces are carrying the largest load and which are providing the best throughput. This information can be a valuable asset when calculating ROI or negotiating with ISPs for better bandwidth rates.
CHANNEL PROGRAM SNAPSHOTS
> FATPIPE WARP
COMPANY: FatPipe Networks
Salt Lake City
(801) 281-3434
www.fatpipeinc.com
DISTRIBUTORS: Direct from vendor
TECH RATING:


CHANNEL RATING:

Note: Vendors can earn up to five stars for technical merit and five for their channel program. If the average of these two scores is four stars or greater, the product earns CRN Test Center Recommended status.
Printer-friendly version
Email this CRN article