Printer-friendly version
Email this CRN article
E-mail has become the largest security concern in most companies. Due to viruses, spam, unauthorized communications, spyware, adware, phishing schemes and so on, e-mail has greatly complicated the life of solution providers and network administrators. With that in mind, solution providers have gone on a quest to return e-mail back to being an advantage instead of a burden. The market has answered with a variety of e-mail security solutions, ranging from filtering software to appliances to managed services. That abundance of options has only confused the market further.
Arguably, a centralized security system offers the ideal solution for combating e-mail-based threats. Appliances offer the least path of resistance when it comes to centralizing e-mail security. Ideally, that appliance will combine policy based filtering with antispam and antimalware capabilities, along with several other security-centric services. Historically, a solution of that magnitude has been hard to find, much less afford, with price vs. functionality as the key sticking point.
Enter PineApp an appliance manufacturer with a keen eye for securing e-mail. PineApp's latest offering is version 3 of the PineApp Mail-SeCure platform. By combining an extendable appliance with advanced security software, PineApp has created a one-stop appliance-based solution for companies with 50 to as many as 10,000 users. The product offers scalability, failover and several other enterprise-class options and is housed in an attractive 1U rack-mount device.
The key features behind Mail-Secure include inbound and outbound policy based filtering, antivirus scanning, antispam services and advanced reporting. What's more, the unit can act as a company's mail server, removing that burden from other network servers. When configured as a mail server, the unit brings remote mail access to the table via a browser and offers enhanced management and reporting tools for hosted mail boxes.
That said, most installations will deploy the unit as an e-mail relay to use the advanced filtering capabilities and not disrupt any current e-mail configurations. Newer networks may want to consider using the mail server functionality to reduce initial network setup costs by eliminating the need for a separate mail server. Established networks will most likely be able to leverage the unit's relay filtering mode, which offers the fastest way to implementation.
Installation of the unit could not be any easier: The unit is simply deployed at the edge of the network and e-mail traffic is then redirected to it. Installers will need to only associate traffic on five TCP/UDP ports with the device. Installers will want to have a notebook computer with an Ethernet port handy for the initial install. After using a crossover cable and setting up a default IP address, the deployment wizard will pretty much run the show.
The browser-based interface proves to be both intuitive and comprehensive. Quick access to component menus are just a mouse click away, and administrators can drill down to the minute details of the device.
That makes policy management quick and easy and allows simplified administration of the antivirus and antispam engines a reality. The antispam engine offers several control modules, which can be configured to work individually or in concert to filter both incoming and outgoing mail. Those modules include a Virus Outbreak Detection service, advanced heuristics analysis, spam scoring control and several proprietary features to further enhance the antispam capabilities.
The antivirus engine is powered by F-Secure's antiviral analysis services, a well respected antivirus product. Automatic updates are included with the unit, which lowers administration overhead.
PineApp's products are available directly from the company, and the vendor offers margins in the 30 percent range. The channel program was created less than a year ago and is still undergoing evolutionary changes. 24x7 support is available to partners, and deployment training is done in person on site. PineApp will be launching additional reseller services in July, starting with a dedicated Web portal and then moving on to other account and sales management capabilities.
While the company's channel program may not be "quite there" yet, solution providers should still consider the benefits offered by the company's appliance-based technology, which should solve a multitude of problems for any enterprise system. Pricing starts at $3,499 for 50 users and increases to $49,999 for 10,000 users (dual appliances for failover included). The platform offers ample opportunity for profits while managing to keep administrative overhead low—a win-win situation in any solution provider's mind.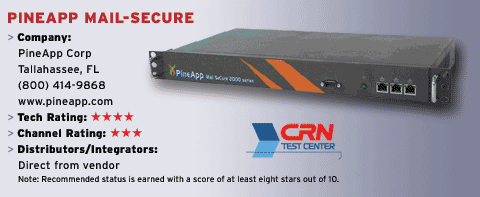 Printer-friendly version
Email this CRN article