Printer-friendly version
Email this CRN article
As a society, we are not strangers to the concept of self service. Anywhere you turn, you can find self-serve cash registers, banking machines and gas pumps. So it should be no surprise that the same logic can apply to delivering application management.
While that may sound like a threatening proposition for the channel, one company has taken self service to the next level, by incorporating VARs as part of the self-service model. Everdream offers a Web-based portal that can bring management to PCs anywhere in the world, as long as there is an Internet connection.
Originally designed to be sold directly to corporations, Everdream has identified the channel as an avenue for growth in the managed services market. The company has modified its managed service offering to bring resellers into the mix.
Everdream's product is an on-demand desktop management service, which enables greater visibility into hardware and software assets. The product offers users a management portal, where they can control their IT assets.
The unique feature of Everdream's product is that it is self-provisioning, bringing asset management, software distribution, patch management, virus protection and online backup to IT administrators looking for an easy way to try, buy and deploy such software services. The key here is that the offering (best described as a service) introduces a new method to the way IT administrators previously acquired and deployed desktop management solutions.
Services are initially offered for free as a 30-day trial. During that 30-day period, testers can use the product to identify all of their IP-based assets on their network. That extends to remote VPN connections and mobile workers. The real value however, comes with management and deployment.
Solution providers will find using the product a breeze. The product offers incredible ease of use and a plethora of services. All major tasks are executed from a single Web-based portal that uses a dashboard-style interface.
The product offers a range of services and applications. Administrators have access to antivirus technology, patch management, software inventory tools, hardware inventory tools, compliance tools, backup utilities and other capabilities.
After registering for the service, the first step consists of using a discovery wizard, which is provided via a download. The discovery wizard is a custom-generated application that automatically places discovered components into the company's predefined group structure. The wizard only needs to be run on a single PC on each network subnet and can deploy the management agent automatically, as long as the user has the appropriate rights.
The management agent is the key to the product. The agent is used to distribute policies, deploy applications and maintain the inventory of the target device. All discovered information is reported by the agent back to the central management console, where an administrator can control most any aspect of a remote system.
Administrators will find the reporting tools extremely powerful, especially those associated with compliance reporting and security.
Everdream strives to offer all of the tools associated with successful network management and succeeds in bringing that complex task to the market. The product also brings affordability and manageable prices to businesses of any size.
The company has crafted a channel program that allows partners to share in the technology and deliver it directly to their own customers, and to become an MSP by combining management consulting with the products management tools.
Everdream offers a two-level channel program for MSPs and VARs: Gold and Platinum. There are no costs to become a partner, but sales targets must be met. Gold partners are expected to meet a $2,000 monthly recurring revenue (MMR) target, while Platinum partners need to achieve $15,000 MRR. Margins range from 20 percent to 30 percent, and the company offers leads, training and channel-centric support to its partners.
In addition, the company offers Web-based training and a partner portal. Other training opportunities are available, including on-site and off-site training and implementation.
While some of the targets and training costs may be difficult for smaller VARs to meet, those servicing an installed base should be able to quickly meet the gold partner requirements.
It would be beneficial if the company offered an additional element to the channel program for VARs looking to serve the small-business community, an area that could benefit the most from this type of service.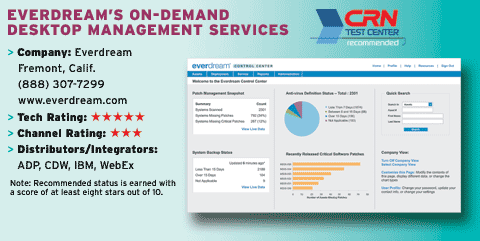 Printer-friendly version
Email this CRN article